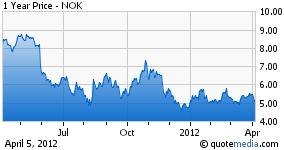 Nokia (NOK) and AT&T (T) are gearing up for the release of the Lumia 900, and despite all the hype by both companies about this smartphone, I suspect it still may not outshine other products on the market.
The Lumia 900 is due to be released on April 8th, and will retail for $99.99. It's being touted as one of the first 4G LTE Windows Phones in the world by AT&T. While both Nokia and AT&T stand to improve their bottom lines with this latest smartphone, Nokia stands to lose the most. That's because it has lagged other major players in the mobile phone manufacturing market, such as Apple (AAPL), Research in Motion (RIMM) and Samsung.
Nokia has seen its revenues decline consistently since July 2008, when they were $24.1 billion. Now revenues have fallen to below $15 billion. The same is true for the company's earnings per share. In March 2011, they were $0.09, and now they are less than one cent.
Margins have also weakened since last year. Its gross margin was 30.67% in March 2011, and now they are around 29%. Nokia's profit margin was 8.39% and has now fallen to less than 1%. This reflects the lackluster response its phones have had as it fights for market share.
I believe these fundamentals can only be improved by a major improvement in the company's sales. I think the Lumia 900 is a significant step in the right direction. I'm curious about how much more appealing the Microsoft (MSFT) powered platform will be for the phone. Microsoft's Windows 8 software will also be on Nokia's tablet it plans to unveil by the end of the year.
In addition to the Lumina 900, Nokia announced that it had teamed with China Telecom to unveil the Nokia 800C, which is the first CDMA Windows Phone in China. Also planned for China is the Lumia 610, which should also be available this year.
In the meantime, the Lumia 900 will have to compete in a mobile phone market dominated by smartphones powered by Google's (GOOG) Android platform and Apple's iPhone.
Nokia is not the only phone manufacturer facing hurdles in beefing up its efforts to stay competitive. So is Research in Motion. The company released its fourth quarter earnings for 2012 in March and reported that shipments of its famed BlackBerry smartphones decreased 21% to 11.1 million. Revenue during that quarter was down 19% to $4.2 billion from $5.2 billion in the previous quarter. It was down 25% from $5.6 billion in the same quarter of fiscal 2011.
Rim faces the same problems as Nokia - a lack of products that attract customers from Androids and iPhones. In Nokia's favor is the backing it has from AT&T to throw its weight behind the Lumia 900 and promote it. RIM's loyal BlackBerry following is good for it. Also, it plans to unveil the BlackBerry 10 platform this year and refocus on offerings, like BlackBerry Mobile Fusion.
I've repeatedly mentioned the dominance of iPhones and Android phones in this article. To give you a better idea of the grip these two have on the market, check out a study released in April and conducted by comScore. It found that of the more than 104 million smartphone users in the U.S., about 50% used Android. It found that 30% used Apple's platform and 13% used with Research In Motion.
The study, which surveyed more than 30,000 U.S. mobile subscribers over a thee-month period, also found Samsung "to be the top handset manufacturer," taking up 25.6% of the market share.
Google's Android made even more strides in the smartphone market, "crossing the 50% threshold in February to capture a majority share for the first time in its history," according to comScore.
When you factor in Motorola (NYSE:MMI), LG (LG) and HTC (OTC:HTCXF), it is easy to see that Nokia will have to be quite impressionable to capture the attention of consumers who have so many options.
Now, with that study being mentioned, I still won't throw in the towel on companies that aren't directly linked to iPhones and Androids. I believe that many consumers have just been stuck between choosing between these two; we haven't had many viable choices. If options like Nokia's Windows powered phone are presented, the market could be loosened up a bit.
Disclosure: I have no positions in any stocks mentioned, and no plans to initiate any positions within the next 72 hours.