"I always knew I was going to be rich. I don't think I ever doubted it for a minute."
- Warren Buffett
If you have been following along with my series of "rich articles" you will see that it spans over a year's time. I've decided to make adjustments in 6 month intervals and more focused analysis on a month to month basis. Now, although I'm talking about "rich" from the standpoint of investments, there is an implication of wealth from the standpoint of money. While I will not entirely dismiss that this is indeed a desirable objective, from taking a broader look at the market today, the "richness" that I crave lies in a better understanding of the stock market and its primary drivers.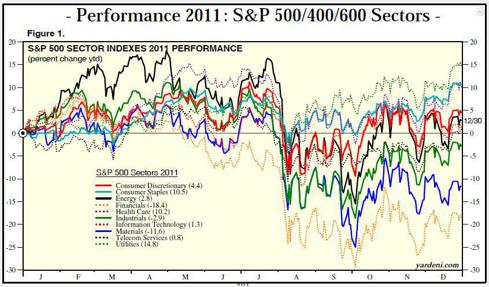 Click to enlarge
I was left with a less than desirable impression of the stock market at the conclusion of 2011, as the chart above shows. To me, none of it made any sense whatsoever. How was it possible that the utilities sector was able to outperform both financials and technology? Going into 2011 who could have predicted this? The answer is nobody. Now here we are today in the first week of April of 2012 and the chart below paints a different picture, as both financials and technology are the dominant players on the market.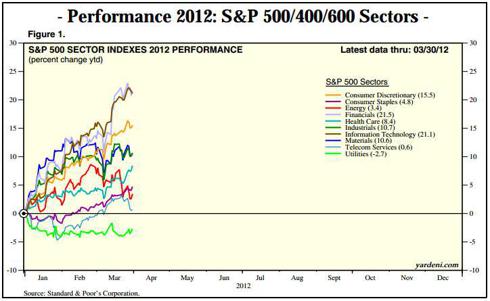 Click to enlarge
So as an investor what are you left to do? How can you get "rich" when money continues to rotate from one sector to the other just when you think you have acquired enough understanding of the market to make the best possible decisions that you can make? As they do in sports during halftime, you adjust. And it is precisely what these articles are designed to do at times on a month to month basis or quarter over quarter. So after the first quarter of the year has now passed, here are a few stocks that have churned in my portfolio.
Intel (INTC) - I've Bought
I've had no choice but to salivate at the ridiculously low valuation that chip giant Intel presented. It seems while Wall Street continues to be asleep at the wheel and focusing solely on Qualcomm (NASDAQ:QCOM) and ARM Holding (ARMH), Intel continues to just go about its business performing as the under-appreciated bellwether that it is. At a P/E of 11 it is clear that Wall Street continues to discount the company's true value and investors who are looking for a stock that trades at a considerable discount have plenty of reasons to consider a long position here while appreciating that Chips are indeed the wave of the future. It seems as if the company is being disrespected for doing nothing other than being consistent - it has become the victim of its own success.
But investors should feel excited at its next couple of years. This is even tough Wall Street continues to marvel at Intel rivals such as Texas Instruments (NYSE:TXN) while making the mistake in thinking that the company can no longer innovate. But its recent earnings announcement proved just how unwise this notion is, as the company reported a 6% increase in profits while analysts had expected that number to fall short. The remarkable feat is that it did this as hard-drive shortages held back PCs. The latest results were at the high end of Intel's mid-quarter forecast range where its Q4 net income arrived at $3.36 billion, or 64 cents per share, up from $3.18 billion, or 56 cents per share, a year earlier.
At $28 and with as bright of an outlook that it has one can't do much better than Intel - a company that I have recently considered "a buy at any level." Even on the most conservative assumptions the company can easily add 25% more to its shares over the next two quarters to reach $35. But unfortunately for Intel as I've said before, it has to deal with being the victim of its own success where it is now being taken for granted.
Qualcomm (QCOM) - I've Sold
One of the toughest decisions that I've ever had to make was sell my position in Qualcomm - a move that eventually was followed by having established a long position in Intel which I felt presented better long term value. As far as my decision is concerned, I just felt that the stock had grown expensive. This is regardless of the fact that I love the company's business as well as its management team. Instead, my concern dealt with what I anticipated to be short term hiccups attributable to an ever increasing competitive landscape. Plus, I appreciated the fact that, as the chart showed above, the increase in technology favor on the market likely had contributed to the company's current gains.
As noted previously, the company has a sound business with excellent management. When looking at its operations, I am immediately reminded that the company is focused on tackling new markets, and secondly, it has a very attractive model - one that has caused some angst for the competition which included Intel, Atmel (ATML) as well as the aforementioned Texas Instruments. As noted, the company has the advantage of being one of the top suppliers of MSM chips for Apple's iPhone and is a beneficiary of the growing popularity of smart phones, which are projected to grow by 43% this year. As bright as its outlook appears, the company is doing as much as it can to prove that it can grow into its valuation. But at a P/E of 23, when Intel was trading at only a multiple of 11 I felt it was time to lock in my gains and look for the better value. We will revisit this in a couple of months and see if this is a decision that I will soon regret.
Texas Instruments (TXN) - I've Sold
In selling my position in Texas Instruments, I chalked it up to the fact that I believe it is often "better to be lucky and good." When the stock reached $33 per share and a P/E of 17 as with Qualcomm, I felt it had gotten pretty expensive - again this is comparing it to Intel that then traded at $26 and sported a P/E of 11. So in a way, to be a bit more conservative I exited the position in favor of Intel even though analysts were projecting sales growth and total sales of nearly $13.9 billion, bringing consensus earnings projections for 2012 to $1.89.
As good as these projections were, it still didn't factor that the company's sales trends were improving and projecting higher towards $15 billion leading into 2013. Instead, I followed my instincts and sold. Shortly after, the company lowered its guidance for first quarter earnings, citing lower demand for wireless products. It said that it now expects profits for the first quarter to arrive between 15 to 19 cents per share - lower than the 16 to 24 cents that it had previously forecast. While doing so, it also cut its quarterly revenue expectations, where it now expects revenue in a range of $2.99 billion to $3.11 billion, compared to previous estimates of $3.02 billion to $3.28 billion.
Though I remain a long term bull on the company, I feel pretty good about the fact that my method of appraising value helped me to avoid a slight dip that eventually followed in the shares. As far as the long term is concerned, value investors may consider adding the shares on weakness should they drop below $30 and or wait for its multiple to fall in the range of 12 to 15. Investors with longer term horizons don't have much to worry about and should still expect the stock to end the year on a high note at $40.
Apple (AAPL) - I've Bought
The idea that technology giant Apple can reach 1 trillion in market cap while trading at $1,000 per share has now been shared by two prominent analysts. This only adds to the stupidity that I continue to feel for having sold it at $450 earlier this year after its earnings announcement, but I was lucky enough to buy back in at just under $500. With the stock now trading at $624, what remains remarkable is that it is yet the cheapest equity on the market and one that should be considered at any price - especially under $650, a target that it should reach within the next three weeks with relative ease.
All Apple needs to do is achieve roughly 12% to 15% annual revenue growth for the next couple of years, the company will be able to generate almost $180 billion in annual revenue. Just imagine what that means for a second. Assuming a declining ratio of free cash flow conversion, Apple could end 2015 with nearly $39 billion in free cash flow. If we assume a relatively modest cash flow growth of 6% and a market-matching discount rate while adding in the cash on the balance sheet, this suggests a target of at least $800. But hey, I much prefer a price target of the 4 digit variety.
Sirius XM (SIRI) - I've Sold
For Sirius I sold out of the stock at $2.15 just ahead of its Q4 full year earnings announcement because I felt missing out on other opportunities was far worse that waiting for what I felt was a ceiling at $2.50. The question that I had to answer for myself was simply, is a 16% gain enough for me to hold the stock for the entire year. Once I arrived at my answer, the decision was easy. The company followed with less than stellar earnings report which included 1.3 million projected increase in subscriber guidance. I said earlier this week that the stock is stuck in "auto" and I meant that in two ways.
First, there is a certain level of predictability in its recent trading pattern - one that is not too inspiring and suggests that a price of $2.50 is likely as high as the market will allow it to go. Second, the company's revenue is tied to the "auto" - this is at a time when free IP content is becoming so ubiquitous to the extent where a recent Buick commercial as well as Chevy was offering Pandora (P) streaming as an option. It won't be long before many more deals with various other technologies are presented. One has to remember that Sirius does not market to the demographic that buys the Chevy volt and similar models.
Selling my position in the stock was one thing, but I also took out a "modest" short position at $2.35 which I eventually covered for a "modest" gain at $2.23. Although I recently missed another good short opportunity at $2.38 or so, I don't think I will be able let another chance like that pass me by. As embarrassing as it is for me to admit, I got a little scared and allowed the exuberance of the news surrounding Liberty (LMCA) to scare me out of doing what my instincts told me to do. Let's just say there's still a very sizable amateur side of me that I still need to focus on logic and not the noise. With that, I have now placed a short limit order at $2.36 and will leave it open through Friday's close and see what happens.
Disclosure: I am long AAPL, INTC, ATML.
Additional disclosure: Author has a short limit order set in SIRI that will remain open through Friday's close.