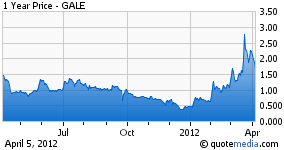 Galena Biopharma (GALE) traded lower in after-hours after announcing a public offering of its stock. The deal is for 8.5 million shares priced at $1.50 and will generate $11.6 million in net proceeds. This is a discount only, no warrants deal. This type of financing usually indicates an interest by fundamental investors who want to see the Galena pipeline fully developed and commercialized. Financing is now done and with favorable terms in place, it may stimulate those to seriously consider adding GALE to a portfolio.
Galena Biopharma is a $90 million company with a phase III candidate in NeuVax that treats breast cancer. The results of early testing have been encouraging, and the stock has traded higher by 300% YTD thanks to the optimism surrounding its lead treatment. One reason being the potential market for NeuVax if the drug is approved. Breast cancer is a very common disease with few treatment alternatives. Herceptin is one of the more popular treatments, but only targets 25% of the patients with the disease. NeuVax has the potential to treat up to 75% of all breast cancer patients, and if so, it would return substantial revenue for GALE considering Herceptin returns $5 billion in annual sales while treating just 25% of all patients.
In the company's press release it gave several reasons for the offering, which include funding its phase III candidate NeuVax. Another use will be for its Phase II trial of NeuVax with Herceptin (R), which is an area of high interest for investors (to see if there are any benefits to using the treatments together). If there is a benefit to using both drugs it could result in an instantaneously large market for NeuVax because of Herceptin's already large network of physicians that use the treatment. The trial is expected to begin sometime in mid 2012 and will be a major catalyst for gains in the stock.
I think the timing of the public offering makes sense for GALE. Its YTD return has seen tremendous gains and the stock is trading with a significant level of optimism, meaning the public offering should be quite successful. Just look at Array BioPharma (ARRY), which is a $200 million company that completed its public offering earlier this year. The stock traded lower following the initial announcement of its public offering, from $3.19 to $2.60. But when the company raised $56 million the stock began to trade higher, and has since continued to trade higher as investors realize the large sum of cash can provide security throughout its trials.
GALE is roughly half the size of ARRY. The company posted a net loss of $12 million in 2010 and $11.5 million in 2011. And although spending will increase during its phase III trials, the public offering combined with its current cash position should be enough to fund the company over the next two years. If the results from its Phase III trial continue to return impressive results then I doubt GALE will have to worry about funding outside of the next two years. In addition, I think the stock is trading with a very attractive valuation around $1.60 and should be near the bottom of its resistance. If the stock continues its YTD trend it could very well continue to trade higher following the public offering, much like ARRY.
Disclosure: I am long GALE.