Most writers will admit that occasionally the well runs dry, and they run out of ideas. We've never had that problem here. Granted, we only publish 4 to 8 times per month, but if this site was our full time job and we could feed our family and pay the mortgage from site generated revenue, we have little doubt about our ability to publish quality research 5 days a week (some of our readers might argue that point).

That being said, we'll admit that sometimes our ideas for research come from strange situations. This is one of those times.

It so happened that we were on the beach Labor Day morning, a beautiful day, on the New Jersey Island we call our summer home. The plan was for the kids to surf before the lifeguards came on duty. But before anyone could get into the water, we noticed something strange. Dozens of pelicans attacking the water, schools of fish getting closer and closer to the shore. Then some of these fish started washing ashore. Most were still alive, some had a bite or two taken out of them. We threw them back in as quickly as they washed ashore, but we are not sure which fate was worse: suffocating on shore, or being tossed back into the midst of hundreds of mean, angry, and very hungry bluefish—the very reason these fish were so close to shore.

The fish washing ashore were Menhaden, otherwise known as Bunker. These oily fish have no use as food for human consumption (although they are excellent bait for blue claw crabs). As it turns out, they are also an excellent source of Omega-3 fish oil, commonly used to combat high cholesterol.

Omega Protein
That's where Omega Protein (NYSE:OME) enters the picture. Fish oil is their business. This small ($151 million market Cap) Houston based company uses a fleet of 32 spotter airplanes to find these fish, and 61 boats to bring home the catch. From there, the company processes the fish into Omega-3 fish oil used as a dietary supplement for humans, and sells what's left over as animal feed, fertilizer and other products.

We've been intrigued by this company for years, but have never owned it-directly that is. We did own shares of Zapata Corp (ZAP), which until last year owned 58 percent of Omega. At the time we bought Zapata, this was the cheapest way to get exposure to Omega. Ultimately, Zapata decided to unload Omega, much to our chagrin, at well below market prices. The buyer of this huge Omega stake? Omega itself, which bought, and retired the shares. There's where the story gets interesting. On November 28, 2006, the Company purchased 9,268,292 shares from Zapata for $47.5 million, or $5.125 per share. The previous day, Omega closed at $7.61, so this represented a 33% discount, not uncommon in the sale of such a large stake. The purchase was financed by a senior secured financing facility, increasing the company's debt load.

Omega also had the option to buy the rest of Zapata's stake, 5.2 million additional shares at $4.50 per share, but passed on that offer. Instead, those shares were purchased by multiple institutional investors for $5.55 per share, or $29 million. The purchasers included Special Situations Fund III QP, L.P., Special Situations Fund III, L.P., Special Situations Cayman Fund, L.P., Special Situations Private Equity Fund, L.P., Franklin Microcap Value Fund, Wynnefield Partners Small Cap Value, L.P., Wynnefield Partners Small Cap Value, L.P. I, Channel Partnership II, L.P.

The Fundamentals
Fiscal year 2006 sales rose 27% to $139.8 million from 2005s $109.9 million, and net income was $4.57 million, up from 2005s $7.2 million loss. Keep in mind though, that Hurricane Katrina was a factor in 2005s results, and several of the company's processing plants were severely damaged. For the latest reported period (Q2, June) the company netted $2.6 million on sales of $37 million.

As for the balance sheet, the company ended Q2 with $3.8 million in cash and $56 million in inventory. Certainly not a stellar balance sheet, and LT debt at $62 million increased as a result of the share purchase from Zapata. This is a fairly capital intensive company, with nearly $100 million in plant and fishing vessels, net of depreciation. Latest tangible book value per share was just north of $6.


The Risks
This company is not without its share of risks. First, Omega is completely dependent on finding an adequate supply of fish, and there are no guarantees here from year to year. Fish are the raw material, and without them, no product, no revenue. Second, fish oil yields have recently been down, and there is nothing the company can do about it. Lastly, the company has become extremely unpopular in the Chesapeake Bay area, one area where it harvests large quantities of Menhaden. Some believe the company has over-fished the Bay, posing a threat to the ecosystem, and the other fish that utilize Menhaden as a food supply. To that end, the State of Virginia imposed limits on Omega's annual Menhaden Harvest. Further limits here, or other areas where the company harvests, could mean tough times ahead for Omega.

We view Omega as a company to keep an eye on. The valuations are not all that compelling at current levels, but this is a company in a niche market, and assuming they can continue to harvest an adequate supply of Menhaden, and that more consumers turn to natural methods of lowering cholesterol, and other benefits fish oil supplements are purported to provide, Omega may deserve a look.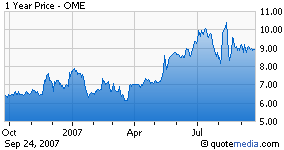 Disclosure: The author does not have a position in Omega Protein.