Yesterday was the kind of day investors on Seeking Alpha should be excited about. Fear is in the markets, sell-offs are everywhere, and yet from my perspective, nothing really has changed. Money supply is still expanding and a weak bond market is still ready to push money into stocks.
Most importantly, regardless of what the Fed says, unless there is debt cancellation and a balanced budget (neither of which is anywhere in sight), the only option is to continue expanding the money supply. This is bullish for "the inflation trade" - which includes precious metals, commodities and certain stock sectors. From this perspective, so long as these factors are in place, I think buying dips is an opportune strategy.
Here's a list of what I have already bought and what I have on my watchlist:
1. Nautilus Minerals (OTCPK:NUSMF). I blogged previously about how this was a disruptive opportunity. Nautilus has potential to be a true game changer, in that it is focused on mining the ocean. If successful, Nautilus will have a completely different skill set than more conventional miners. They will be hiring different types of scientists, dealing with different jurisdictional issues, and may even have different customers and business models. This is a high risk/high reward play, but game changers that compete with a total different base of core assets - which introduce new technologies and a new basis for competition - are the most lucrative opportunities for transforming markets and becoming dominant players. It is with this perspective that I enter a long position in Nautilus.
I'm in this for the long run, though I think below $2.40 is a buying opportunity. See the chart below.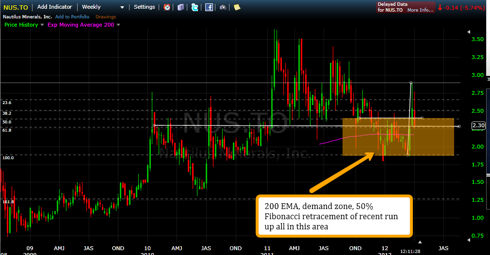 2. Uranium Energy Corporation (NYSEMKT:UEC). I bought UEC yesterday - see my report - and I think a price below $3.50 is a great opportunity. In addition to the broad market sell-off, UEC also sold off on the announcement of a secondary offering. Nothing really has changed about this stock or the uranium market, in my opinion, and so I still believe this will go well beyond its previous all-time highs which are still more than 2X above its current price.
Those are two that I've already purchased. There are four more I'm considering as well:
McEwen Mining (NYSE:MUX). This stock has been exceptionally volatile relative to many other producing mining firms, and so on days where there are strong sell-offs, there can be an especially favorable opportunity to acquire this stock. It is in production, has over $78 million in current assets (including gold and silver waiting to be sold at higher prices), and most importantly, is led by Rob McEwen, the mining entrepreneur who built up Goldcorp (GG). I was buying McEwen Mining at $5 several months ago, so I clearly think this stock is going much higher. It's current price near $4 a share is simply a great discount, as far as I'm concerned.
Eurasian Minerals (NYSEMKT:EMXX). The royalty miners are a must for any portfolio, as I previously mentioned, and Eurasian remains one of my favorites here. The company just sold one of its mines while retaining a royalty agreement and is down slightly today, closing at $2.23. I previously bought it at $2.44, and think it is a great buy at these prices as well.
Northern Graphite (OTCQX:NGPHF). For those who anxiously watched as the graphite bubble began to take off without them, now may be a time to get in on the dip. Northern remains one of my favorite plays here. The stock is up over 100% this year, and boasts Sprott Asset Management as an investor - so there is potential significant capital and valuable connections to help the firm along. Northern is down over 5.5% today and closed the day at $2.92 per share, although given the immense run up the stock has, I'll need for it to fall to $2.60 before I can feel comfortable. I imagine it's a good deal still at these prices, although I would rather focus on the underpriced gold and uranium stocks until there is a sufficiently large pullback in graphite.
Focus Metals (OTCQX:FCSMF). Focus is a graphite miner in the Labrador Trough area of Canada, a mineral rich area that I believe the company will be able to get quality graphite out of. Focus is a volatile stock, and I'd like to see it dip below $1.00 before buying it instead of gold and uranium stocks. It's currently trading at $1.11.
Last but certainly not least is gold (GLD). Gold is near the bottom of its weekly price channel and has very strong support at $1,560 and $1,620. Here is a look at the weekly chart of gold. The black lines constitute buying levels. Gold is, in my opinion, the safest long-term option - though investors will benefit from a willingness to hold it for at least two more years.
(Click to enlarge)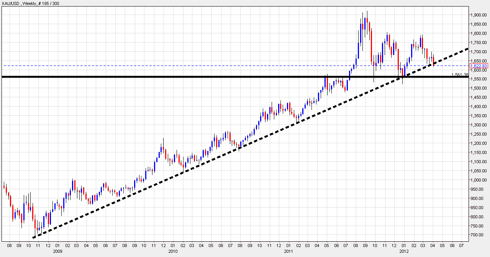 I'm not really a fan of ETFs, preferring physical coins and bars held in direct possession or stored in secure vaults, although the Sprott ETF (PHYS) is one I favor simply because I trust Sprott more as a custodian than HSBC, which is the custodian of GLD. Perhaps such concerns are not warranted, but as Intel (INTC) leader Andy Grove famously said, only the paranoid survive. I tend to agree.
For those who know their strategy and have both the capital and conviction needed to execute it, sell-offs can be a great opportunity to buy when weak hands are selling.
Disclosure: I am long MUX, GG, EMXX, UEC.
Additional disclosure: I am also long Nautilus Minerals on the TSX and physical gold.