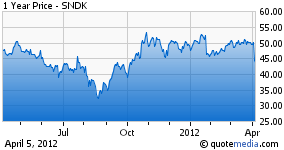 Shares of SanDisk (SNDK) took a serious beating yesterday after the company warned of disappointing results (link). Shares lost 11% on the close in a generally weak market.
First Quarter Outlook
SanDisk lowered its first quarter revenue outlook from $1.30-$1.35 billion to around $1.2 billion. This is quite a shock with the investment community anticipating revenues of $1.34 billion. When SanDisk originally issued its first quarter outlook in January 2012, investors were already disappointed as analysts expected the company to generate $1.4 billion in revenue. Gross margins will miss the earlier forecast of 39%-42% as well.
With the company reporting a 17% full year revenue growth for 2011 the announcement comes as quite a shock. Last year SanDisk reported $1.29 billion in revenue for the first quarter, which indicates that revenue will be down about 8% on the year.
The revisions come as a complete surprise to many observers as SanDisk said it was an "important" supplier to Apple (AAPL). Somehow reporting a year-on-year revenue decline while mentioning that you are an important customer of Apple does not make sense. Did SanDisk lose most of its business to competitor Qualcomm (QCOM), which recently did show strong operational performance, or has Apple started a new round of squeezing its suppliers?
Valuation
SanDisk holds large cash balances, just like any other technology company nowadays. In its latest quarterly filing the company reported $2.9 billion in cash and a debt position of roughly $1.6 billion, leaving a net cash position of around $1.3 billion.
Factoring in today's decline values the company at $10.8 billion, or $9.5 billion for the operating assets. This valuation implies a 1.7 times annual revenue multiple and a mere 9.5 times price-earnings ratio.
This looks rather cheap. However given the disappointing first quarter outlook it might be that 2012 is not going to be as good as everyone previously thought.
It is already questionable at the moment if the company can meet its results of 2011 in terms of revenue and earnings.

Is Apple Becoming Too Dominant?
It is widely reported that Apple is known for squeezing its suppliers to accepting the lowest possible prices as the company makes full use of its market dominance. This might be one of the reasons that shares of Apple are down a mere 0.8% in today's session.
A basket comprised out of known Apple suppliers being: Broadcom (BRCM), Cypress Semiconductor (CY), Fairchild Semiconductor (FCS), Marvell Technology (MRVL), Micron Technology (MU), LSI Corp (LSI-OLD), ON Semiconductor (ONNN), Qualcomm, Skyworks Solutions (SWKS) and TriQuint Semiconductor (TQNT) lost on average 3.1% today on renewed fears that being an Apple supplier does not necessarily mean highly profitable revenue generation.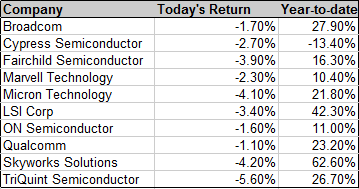 Conclusion
Something bad happened to SanDisk yesterday. Is it merely the fact that they are not such a prominent Apple supplier as they were in the recent past and could they have possibly lost important orders to some other suppliers? Or has Apple been squeezing all its suppliers just a little bit more and can we expect more profit warnings from suppliers in the coming weeks ahead of the earnings season?
Let's say the truth is somewhere in the middle, but shareholders in SanDisk have just seen their year-to-date returns gone up in smoke.
Disclosure: I have no positions in any stocks mentioned, and no plans to initiate any positions within the next 72 hours.