China's economic growth has been amazing over the last few years, higher than 8% annually for the last seven years. However, the most recent economic data out of China has surprised on the low side and has increased the odds of an economic hard landing.
Recently, China's lowered the GDP growth target to 7.5% for 2012 from 8% previously. This change signals less support from policymakers to support growth and add a clear downside risk to it, over the short to medium-term.
Recent Economic Weakness
The weak demand environment in Europe, China's largest trading partner, is hurting China's exports, one of the most important factors for Chinese economic growth. China's exports have stumbled - in January they were down 0.5% year-on-year and 14.2% month-on-moth. Other data also gave signs of a weakening economy in January: electricity consumption declined 7.5%, car sales tumbled 23.8%, and property prices fell for the fifth-straight month.
More recently, the HSBC flash PMI index, an indicator of China's industrial activity, fell to 48.1 on March making the fifth consecutive month where the PMI has been below 50 (contraction area), a signal that the outlook for the next months isn't much better.
Impact on Commodities
Some commodities are more dependent of China's demand than others. Base metals are most exposed to a weakening of the Chinese economy. For instance, China accounts for around 40% of copper global demand and iron ore is also very dependent on China. China represents almost half of global steel demand, mainly used for property and infrastructure sectors investments.
On the other hand, agricultural commodities may see sustained growth due to higher Chinese household disposable income. Beyond China's economic growth slowdown, a mild recession in the eurozone and a possible slowdown in the U.S., also represent a risk for commodities prices that are more sensitive to fixed capital investments.
Stock Market Impact
If fears intensify over the following months regarding a sharp slowdown in China's growth, Metals & Mining shares should be one of the most hit. Over the past year the sector (MSCI Metals & Mining -28%) has underperformed the broader market (MSCI World -1%) but if the recent worries about China's economic growth intensify, going forward the sector will much probably decline even more.
Following is a selection of a few companies that would be especially hit if China's economic growth considerably slowdowns, through their exports to China and because lower commodities prices would negatively impact revenues, margins and cash flow generation of these companies.
BHP Billiton (BHP): One of the among the world's largest producers of major commodities, including aluminium, copper, energy coal, iron ore, manganese, metallurgical coal, nickel, silver and titanium minerals, and uranium along with substantial interests in oil and gas.
It's a dual listed company comprising BHP Billiton Limited and BHP Billiton Plc. BHP Billiton Limited has a primary listing on the Australian Securities Exchange and BHP Billiton Plc has a premium listing on the London Stock Exchange. In addition, BHP Billiton has two ADR's listings on the NYSE.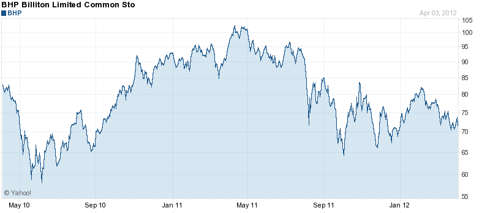 Click to enlarge
(Click to enlarge)
Source: YahooFinance
Rio Tinto (RIO): Rio Tinto is a leading international mining group, combining Rio Tinto plc, a London listed public company headquartered in the UK, and Rio Tinto Limited, which is listed on the Australian Stock Exchange. Rio Tinto comprises five principal product groups - Aluminium, Copper, Diamonds & Minerals, Energy and Iron Ore.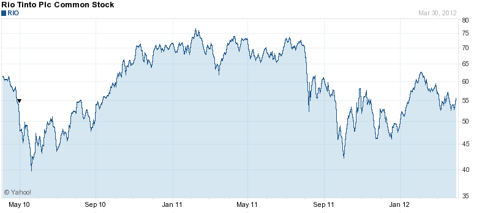 Click to enlarge
(Click to enlarge)
Source: YahooFinance
Anglo American (OTCPK:AAUKY): Headquartered in London, UK it has a portfolio of mining assets and natural resources that spans bulk commodities - iron ore and manganese, metallurgical coal and thermal coal; base metals - copper and nickel; and precious metals and minerals - in which it is a global leader in both platinum and diamonds. The company operates in Africa, Europe, South and North America, Australia and Asia.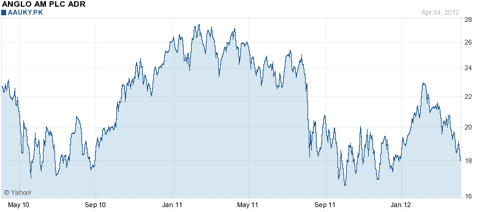 Click to enlarge
(Click to enlarge)
Source: YahooFinance
Xstrata (OTC:XSRAY): Xstrata is a global diversified mining company based in Switzerland. The company is in a merger process with its largest shareholder Glencore, which has a 33% stake. Xstrata is a diversified mining group, explores for and mines copper, coking coal, thermal coal, ferrochrome, vanadium, zinc, gold, lead, and silver. The Group conducts operations in Australia, South Africa, Germany, Argentina, and the United Kingdom.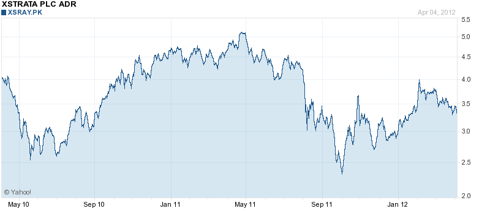 Click to enlarge
(Click to enlarge)
Source: YahooFinance
Glencore International (OTCPK:GLCNF): Glencore, also headquartered in Switzerland, is an integrated producer and marketer of commodities. Glencore has worldwide activities in the production, sourcing, processing, refining, transporting, storage, financing and supply of metals and minerals, energy products and agricultural products. It's a listed company since May 2011.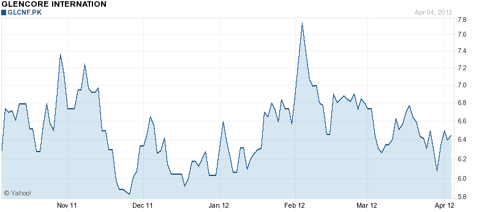 Click to enlarge
(Click to enlarge)
Source: YahooFinance
Antofagasta (ANFGF.PK): Antofagasta is a Chilean-based copper mining group with interests in transport and water distribution. It is listed on the London Stock Exchange. Antofagasta's activities are mainly concentrated in Chile, where it owns and operates three copper mines.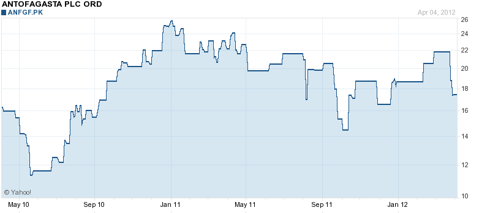 Click to enlarge
(Click to enlarge)
Source: YahooFinance
Vale (VALE): Vale is the second biggest mining company in the world and the largest private company in Latin America, is headquartered in Brazil and operates in 38 countries. It's the global leader in iron ore and the second biggest nickel producer. Vale also produces copper, coal, manganese, ferroalloys, fertilizers, cobalt and platinum group metals. In addition, it operates in the logistics, steel and energy sectors.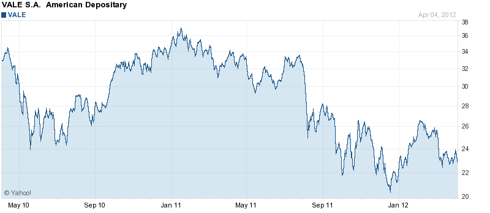 Click to enlarge
(Click to enlarge)
Source: YahooFinance
ArcelorMittal (MT): ArcelorMittal is the world's leading steel and mining company. It's listed on the stock exchanges of New York, Amsterdam, Paris, Luxembourg and in Spain. The company was formed in 2006 by the takeover of Arcelor by Mittal Steel. It is the largest steel producing company in the world and is the market leader in steel for use in automotive, construction, household appliances and packaging.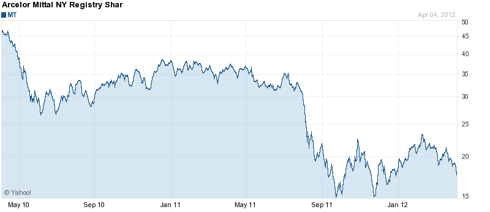 Click to enlarge
(Click to enlarge)
Source: YahooFinance
Disclosure: I have no positions in any stocks mentioned, and no plans to initiate any positions within the next 72 hours.