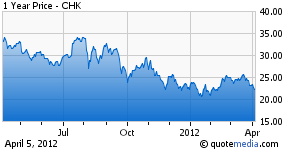 Chesapeake Energy (CHK), with a market capitalization approaching $15 billion, is trading at about $22 per share and may be among the best investments you can make in the independent oil and gas industry. Of course, that's my opinion, and if you have the patience to read on, I think you might come to share it.
First, let's take a look at Chesapeake's fundamentals. The stock trades at 10 times trailing twelve month earnings and has a price to earnings growth ratio of 0.96. The price to book is 1.07 and return on equity is 10.58%. Quarterly year-over-year revenue and earnings growth are impressive, coming in at 38.10% and 111.20%, respectively. When the quarter looks unusually good or unusually bad, I like to look at the income statement and balance sheet for a longer view. Looking at the past three years, gross revenues have risen steadily. On the earnings side, there was a non-cash, non-recurring charge in 2009 that brutalized income, but this turned out to be a non-cash accounting issue under new guidance. With that factor taken into consideration, earnings have been relatively flat. Chesapeake's debt-to-equity ratio is somewhat high at 60.50, and the current ratio is somewhat lower than I would prefer at 0.45. Shareholders receive a modest dividend yielding 1.10%, at a payout ratio of 11%.
In view of what we've seen here so far, you have to be wondering why I'm bullish on this stock. First, you need to understand that I have zero faith in the near-term prospects of green or renewable energy as a solution to our country's energy needs. While I recognize the fact that oil, coal and natural gas are in finite supply, they are the only viable sources of energy for our economy at the present time. After all, we live in the present, not in the future. My second point is that energy costs must be contained, otherwise we are in peril of slipping back into a recession. My final concern is the enormous flow of precious capital to Canada, the Middle East and South America as a result of our dependence on oil imports. You may not realize this, but we only buy about one-third of our oil from the Middle East. The balance is from South America, Mexico and Canada.
This is a brief explanation of why I hold a bullish view on Chesapeake, which sits near the apex of natural gas production. Chesapeake and similar companies are the solution to our energy problem. As the cost of crude oil escalates and tensions rise in the Mideast, natural gas will inevitably emerge as the solution. It is only natural gas that can be used as an economic alternative to fuel our cars and trucks. Natural gas is the only clean alternative fuel source we have in abundance to meet these needs. You can't convert existing fossil fuel powered vehicles to use wind, solar or electric power. You can, however, convert them to use natural gas. The previous link includes a cost analysis which shows payback in less than 15 months and fuel savings of about 50%. Moreover, existing service/gas stations can easily upgrade to dispense natural gas as a fuel. You can even buy your own system to convert natural gas to fuel at home, ultimately saving you more in energy costs.
Natural gas inventories are up and prices are down now, which has resulted in some pullback on the stock. Chesapeake's management has cut natural gas production and is ramping up production on other petroleum products. Chesapeake is even considering selling a stake in certain assets to raise cash. The important takeaway is the staggering number of drilling opportunities in Chesapeake's portfolio and the huge proven reserves of natural gas that it holds. At the end of 2011, the company had estimated reserves of nearly 8.7 trillion cubic feet. I am also impressed by Chesapeake's vision to invest $160 million in Clean Energy Fuels (CLNE). Clean Energy Fuels is in the business of adding CNG pumps at truck stops. The company has installed some 300 pumps to date and plan to install 1,000 more.
Other independent oil and gas companies that have significant natural gas reserves are Anadarko Petroleum (APC) with 8.8 trillion cubic feet, Occidental Petroleum (OXY), with OXY)" rel="nofollow">3.8 billion cubic feet, Apache (APA) with 9.7 trillion cubic feet, Devon Energy (DVN) with 10.3 trillion cubic feet and EOG Resources (EOG) with 7.8 billion cubic feet.
I prefer an investment in Chesapeake Energy because 100% of its natural gas reserves are domestic. This insulates the resource from geopolitical concerns. I have previously mentioned Chesapeake's foresight in developing natural gas as a fuel for our cars and trucks but I should also mention the extensive delivery network the company has in place compared to competitors. In short, no other company is positioned more favorably to react to domestic demand for natural gas.
This demand will be enhanced by increasing pressure for natural gas as a motor fuel. Honda (HMC) already has a vehicle on the market designed to operate on natural gas. How long will it be before the domestic auto companies get on board? In my mind, the future of natural gas as a fuel for the motoring public is on the horizon and the very best reason to be long on Chesapeake Energy. I don't plan to sit on the sidelines during this pullback.
Disclosure: I have no positions in any stocks mentioned, and no plans to initiate any positions within the next 72 hours.