"Pit Bull - Lessons From Wall Street's Champion Day Trader," by Martin "Buzzy" Schwartz (HarperCollins, 1998)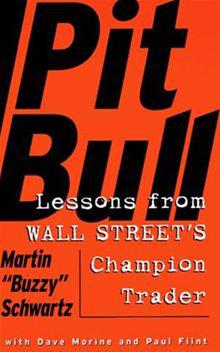 The book shows how the author Schwartz, a professional day-trader, had developed his acumen for trading in stocks, futures and options. He narrates how he mastered the trading techniques, developed a systematic methodology, combined information, intellect and intuition to become successful in his trading career.
Breathing, Walking and Living as a Day-Trader
Trading in the modern era has become advanced with computer models becoming more intelligent and taking over the trading with less human interaction. Schwartz did the charts, calculations and predictions himself in the 70s and 80s and started getting assistance from computers in 90s.
After his graduation from Columbia Business School, the author started his career as an analyst analyzing companies and stocks. He begins with sharing his experience on the trading floor of the American Stock Exchange. He worked for several investment management companies where he had to travel to interview company executives and analyze the companies in all possible angles and provide an analyst opinion. He became tired of this job and devised a plan to become a champion trader.
Every Stock He Places His Bet On Turns Into Gold
Wisely executing his personalized trading strategies he churned out millions of dollars, like in a fairy tale. He then participated in trading competitions conducted by the Financial Traders Association several times to achieve stardom in the world of trading. With all the expertise he gained, he decided to manage other people's money and started his own investment management company. At a time when he was performing like a star, he became seriously sick and that was the beginning of the demise of the company he started. After he recovered, he downsized his clients and relocated south to Florida to spend time with his family and other things in life that he missed. But he never stops being a trader.
A Must-Read for All Day-Traders
Throughout the book, the author shares some valuable points an every day-trader should ponder like:
Exclude ego out of the trading equation
Always stop the losses by exiting a bad trade quickly
Change tables after a winning streak
Preparation pays.
It's essential to know more than the other players in the game
Have reserves in gold in a locker
At the end of the book, there are some good tips to be a successful day-trader. He explains the methodology and tools he uses, how to analyze the market, and how to interpret the movements and trends in charts. By no means is this a comprehensive guide. But it is a good start. This book is an inspiration for those who want to be a day trader but it does not delve into more detailed technical analysis. The book could have used less narration and more information.