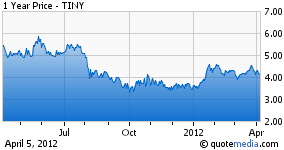 Harris and Harris Group, Inc. (TINY) is an early-stage, active investor in nanotechnology companies. The company offers investors a way to participate in a diversified portfolio of early stage nanotechnology investments. While nanotechnology has lost some of its appeal with investors because of a lack of pure nanotechnology success stories, it is still a pervasive technology that is changing processes in most industries. Nanotechnology is a truly multi-disciplinary approach to building products by manipulating molecules at the atomic level enabling the creation of smaller, more efficient materials and devices, with previously unachievable performance properties and characteristics. This process has helped create product enhancements like encapsulations that allow for slow release biotechnology drugs, materials that convert sunlight into electricity to power personal electronics and computer memories with unprecedented densities allowing the perpetuation of Moore's law.
The Stock is Cheap
From the company's fourth quarter 2011 report:
Harris & Harris Group, Inc. , reported today that, as of December 31, 2011, its net asset value and net asset value per share were $145,698,407 and $4.70, respectively.
That is interesting because today the stock traded at $4.17 or 13% below its NAV. Now, it is possible for stocks to trade below NAV for long periods of time and it is also possible for a company's NAV to decrease. TINY currently trades below NAV but, its NAV may be set to increase. After all the company candidly acknowledged its disappointment with its performance in the third quarter and committed to refining its focus to investing larger amounts in fewer companies and things have improved since.
We are dissatisfied that as of September 30, 2011, our net asset value per share ("NAV") decreased to $4.38 from $5.43 on June 30, 2011; and

First, it is critical we focus our time and resources on venture capital investments that can provide the greatest growth in value for Harris & Harris Group. Over the past two years, we have discussed with shareholders our need to focus our resources on owning a greater percentage of fewer companies. This is important because when our portfolio companies successfully complete IPOs or one of these companies is sold, we will receive a greater percentage of the proceeds.
Liquidity Events May Drive NAV Growth
I really became more interested in TINY again recently when I read the company's latest letter to shareholders. Funny because it was an earlier letter to shareholder's that turned me off the company. Let me just say that I think it is very upstanding that the company bother to issue Letters to Shareholders on a consistent basis. It actually makes me believe that management wants to keep investors informed about developments at the company and that management is actively pursuing improved performance.
From the most recent Letter to Shareholders:
Between 2012 and 2014, we currently believe the remainder of the late stage companies that are not already public could reach a liquidity event through an IPO or a sale. During the same time period, we currently believe that more than 75 percent of our mid-stage companies could be in a position to complete transactions that create liquidity for our investments in those companies. On page 45 of our MD&A, we state, "In the first quarter of 2012, one of our portfolio companies received a non-binding letter of interest for the potential acquisition of the company."

In the following paragraph, we also state,

"Also in the first quarter of 2012, three of our portfolio companies have commenced planning for and/or began the process of hiring bankers to pursue potential sales and/or IPOs of those companies."
History Suggests Successful IPOs of Portfolio Investments
Tiny's CEO can see the potential that several of its current portfolio companies will successfully IPO or be acquired in the coming years driving liquidity events for TINY. The company had five such events in 2011 significantly improving its balance sheet and paving the way for more of the same, as management suggests, over the next two years.
We had five liquidity events in 2011. On February 2, 2011, NeoPhotonics Corporation (NPTN) completed its initial public offering (NYSEARCA:IPO). On March 4, 2011, BioVex Group, Inc., was acquired by Amgen, Inc. for $425 million in an upfront payment and $575 million in potential milestone payments, for a total sale price potential of $1 billion. On May 27, 2011, Solazyme, Inc., (SZYM) completed its IPO. On July 21, 2011 Innovalight, Inc., was purchased by DuPont for an undisclosed amount. On December 28, 2011, Crystal IS, Inc., was acquired by Asahi Kasei Group for an undisclosed amount.
The Balance Sheet Allows Greater Flexibility
Previously described liquidity events have added cash and marketable securities to the balance sheet allowing management to pursue future high quality investments. When future liquidity events like IPO's or acquisitions occur, and management considers options for cash on hand a shareholder distribution becomes a possibility. The company already holds more than $2/share of cash and stock of publicly traded companies. This is another potential catalyst for the company's inexpensive shares going forward. From most recent letter to shareholders:
Primary and secondary liquidity increased to $65,368,303 as of December 31, 2011 from $42,079,934 as of December 31, 2010. Primary liquidity is comprised of cash and certain receivables totalling $33,910,442 as of December 31, 2011. Secondary liquidity is comprised of the stock of publicly traded companies. As of December 31, 2011, secondary liquidity was $31,457,861.
Conclusions
While nanotechnology is misunderstood, there is no mistaking Harris & Harris' ability to identify early stage investments that are likely to eventually IPO. At today's price investors can buy shares at a 13% discount to an NAV that is likely to continue to appreciate as the liquidity events the company describes come to fruition. I believe TINY represents a strong risk reward profile at current prices and will likely revisit 2011 highs over $6 share as announcements of IPOs of portfolio companies materialize over the next 24 months and investor enthusiasm is reignited.
Disclosure: I am long TINY.