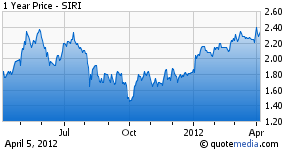 Before I begin, I do realize that Sirius XM (SIRI) closed Monday at $2.40 after a two day run of 20 cents. The fuel for this fire? In some ways, it was news that Liberty (LMCA) had filed with the FCC to be granted "de facto" control of Sirius XM's licenses. But to place all emphasis on this bit of news would be a mistake, and those who sold in a panic on Tuesday and Wednesday will likely soon find their sales to be a mistake as well.
What I believe was glanced over, and what I had believed would be the next bit of news to send Sirius XM into a new trading range above $2.30, is March auto sales. What happened to the news about that? One article from Spencer Osborne? Surely the Liberty news and volatility surrounding it did not cause investors and traders to glance over this bit of information, did it?
I believe the Liberty news did just that, and I have brought up caution to those asking why the stock shot back down to $2.25 intra day over a two-day time frame to watch for the stock return to the mid $2.30's. I still wish to impart caution here to those who think $2.35 is the next peak. Wait for next week and watch how the stock behaves.
In my opinion we have entered a new trading range on an upswing. Consider the chart I included in this morning's article which I'll place here as well, and the explanations over the past two days as we traded down that this was normal. After each large rise, Sirius XM has a snap back, some profit taking, and then rises again proportional to the first rise that starts the green curve. What's the next target? $2.49, which may as well be stated as $2.50. It was all explained in the article today. I hope you read it, and if not, it's great reading for the weekend, I assure you.
(Click to enlarge)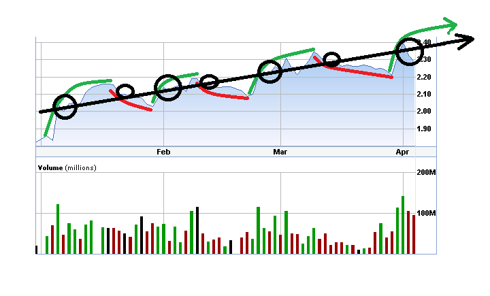 Click to enlarge
Of course, what's most important is not what the stock did. It did exactly as we expected. What's most important is what potential does the future hold?
With a strong close today of $2.35, we've dropped and rebounded some. Notice the behavior above as a new green curve begins. Sharp rise, drop, rebound and gradual rise on up to a new high, every time. This is what I am expecting next week. I expect trading within this new range, $2.30 to $2.49, absent any major issues in the overall market or unexpected bad news coming through the wire surrounding Sirius XM.
We're leading toward the Q1 conference call which in my opinion will contain upward revisions to guidance. New auto sales are now known, and Spencer Osborne will likely have his estimate of expected subscribers soon. Expected positives moving forward should serve as support for the share price, and push it on up toward the $2.50 mark. I will be entering next week with the $2.30 to $2.50 range in mind, and planning my trades or entry points appropriately.
Disclosure: I am long SIRI.
Additional disclosure: I am long SIRI April, May and June $2 calls.