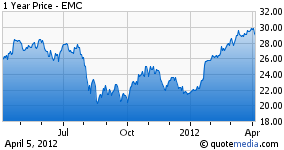 Shareholders of EMC (EMC) are feeling comfortable as the relevancy of cloud computing and "big data" continues to expand in 2012. Indeed, the so-called "consumerization of IT" bodes well for EMC as it expands its client base deeper into both private and public sectors, looking to continue its long history of growth since it went public in 1986. These days, only good news seems to emanate from EMC, and if there was any place I'd feel comfortable investing, it would be here.
After reporting record revenues in the fourth quarter of 2011, stock trends turned right around for EMC - shifting shareholders from having mild losses to steady gains. In the past three months, EMC shares have seen a steady increase from around $21.54 per share on December 30th to around $29.88 at the end of March. That's an increase of nearly 39%.
But the good news doesn't end there. Forbes Magazine analysts expect the price to break $40, and I think EMC is doing all the right things to make that happen. Although the DOW and Nasdaq indexes demonstrate a growing optimism in the market since January, EMC's success is not a result of mere speculation or blind bandwagon mobbing.
Stock prices of EMC reflect the implementation of tactful corporate policies aimed at expansion, and this $20 billion, Fortune-500 computing company seems to know what it's doing. On March 20th, EMC bought Pivotal Labs, the San Francisco-based software company that designs tools to help companies build and maintain websites. This move will contribute to EMC's broad toolbox of data storage and widen its information portfolio, but it also demonstrates an eagerness to grow and stay ahead of its competitors. This sends a strong message to investors who might be inclined to question the future value of EMC.
A day prior to this announcement, EMC revealed an iPhone app for Documentum D2, an interface that accelerates and eases the movement of information securely from mobile devices. The new version of the Documentum application seeks to simplify and speed up business communication, and supports both the iPad and iOS platforms.
In a press release from March 19th, Rohit Ghai, EMC Vice President and General Manager, Content and Case Management Group, said, "Documentum D2 enables organizations to quickly deliver customized content solutions for users, and our Mobile App supports business process participation on the most popular of mobile devices. Taken together, we continue to ride the wave in the revolution to get work done better and faster than ever before."
And all the investments will, with any luck, pay off in the form of big new clients. I have already seen interest in EMC grow this month, starting with the Rotary Club. Just this week, Rotary International decided to transform its IT infrastructure with the help of EMC. After a 400% increase in data storage, Rotary International needed help managing its IT, so it chose EMC as its supplier - a small testament to EMC's dominance of the IT market.
Not that they need any such reassurance. It's no secret that EMC controls a vast realm of the computing world, especially after reporting its 10th consecutive year as the top supplier of external data storage. With competitors like IBM (IBM) and Hewlett Packard (HPQ), this is no small feat.
In fact, before I sound like a raving worshiper of EMC stocks, I should ground myself and discuss the reality of its harsh competition. In the IT world, the growing industry that it is, there are huge companies that challenge each other in a serious way.
Let's take IBM, for example. It's the third largest publicly traded technology company in the world. EMC and IBM have competed for such clientele as Wal-Mart (WMT) - a competition that IBM eventually won back in 2001. Although IBM does more than cloud-computing, the overlap with EMC is still substantial.
Another multinational corporation, Hewlett Packard, presents itself as a formidable contender. Just before EMC made its Documentum D2 release two weeks ago, HP made a statement discussing new cloud applications it intends to release, which will undoubtedly rival EMC's market share. With IBM and HP on its back, EMC will have to keep fighting big battles to keep its head above the water.
But I have confidence. EMC executives are consistently praised for their prowess, and many analysts expect a bright future from the company. Judging historically and from recent efforts to stay ahead of the game technologically, as well as financially, EMC shows great promise.
The truth is, IT technology and management is a growing industry. All major businesses need data storage space, IT management and applications to facilitate the movement of information. EMC has proven itself to be among the best providers of this service, and with a reputation like the one it has, I'm not concerned for its stock value. EMC has everything it needs: Decisive executives, a tremendous reputation and the researchers who will keep up with technological progress.
Howard Elias, president of EMC Information Infrastructure and Cloud Services, spoke with optimism recently, saying, "there is huge data growth happening with consumerization of IT. There is a new way of developing apps and new ways of accessing apps and data." Because EMC is on top of these advancements and changes in the world of information technology, I trust its ability to compete with the best.
The final phrase I have to describe with how I feel about EMC: Attentive confidence. Invest, if you like. The stock should be more than a safe bet. It should be a money-maker. But keep an eye on IBM and HP, especially with respect to cloud computing and data storage. Although you can be confident that EMC is making all the right moves, you should never banish your investment from view.
Disclosure: I have no positions in any stocks mentioned, and no plans to initiate any positions within the next 72 hours.