"Risk comes from not knowing what you're doing."
- Warren Buffett
If the first trading week in the second quarter told us anything, it's that gains are going to be much harder to come by going forward. The first three months of the year brought gains and stock advances that were non-stop. But this week it was clear that investors are starting to get a bit nervous. But as has been the pattern since the start of the year, it also seems that investors are unable to make up their minds about which news should be the focus and prime driver of the market - should it be foreign or domestic? While many economists are expecting a pretty good job report to be released on Friday, on Thursday it seems the concern was related to the eurozone and particularly Spain.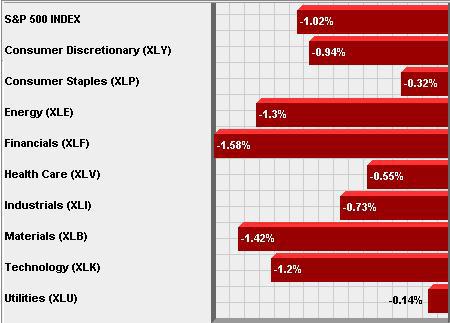 On Thursday my new favorite index, the S&P 500, finished down yet again ending what has now amounted to be its worst performing week since the start of the year - a decline of 0.7%. Again investors understand how dominant the sector has been and are not ashamed of admitting that there is some trepidation regarding Europe and are unwilling to risk being blindsided leading into the long holiday weekend. But who can blame them - especially considering May is just right around the corner.
As a result, both the Dow and the S&P fell for a third consecutive session or .11% and .88%, respectively while only the Nasdaq enjoyed a gain of .40% to close at 3,080.50. So the question is, what does all of this mean going into next week? With all of the major indices having shown strong evidence that a pullback is now imminent let's take a look at some stocks that have made some headlines recently that are poised to move when the market re-opens next week.
The Week Ahead
On the heels of several prominent analysts raising Apple's (AAPL) price target to $1,000 and suggesting that the company has a realistic shot at topping the trillion dollar mark in terms of market cap, the company accomplished something on Thursday that I wished its late CEO Steve Jobs could have seen. By ending the session at $633.68, the stock closed higher than its chief rival in Google (GOOG) which ended the week at $632.32. Not that it was ever mentioned but I have always had my suspicions that this was always one of the company's main objectives for not wanting to split its shares. But now that it has passed Google, I think this lends further support that it is the most dominant tech player on the market - as if that was not already known.
The question is, will it hold on to its slim lead? If you don't think that was a rhetorical question, you haven't been paying enough attention to Apple's performance. For Google, I know that it knows that this event just occurred. The company continues to be one of those technology companies that I have a hard time understanding what it wants to be. Sometimes I don't think it does either. But one thing I know for certain is that these companies do not like each other. If Apple passing it on the stock ticker leader board was not bad enough, Google now has to deal with the fact that Apple is said to be considering using Baidu as the default search engine in China over Google.
According to Trefis, "Baidu is currently the default search engine on Apple's devices globally, but it doesn't really make sense in China where Baidu dominates the online search market, with more than 80% market share. Baidu competes primarily with Google in search and other Chinese Internet giants like Tencent, Sina, NetEase and Sohu." I have no choice but to agree with that and it seems that it is also a great political move for Apple being that it has worked hard of late to get into the Chinese market. But Google can't be pleased.
But it seems Google is not the only one who now has an incentive to retaliate against Apple. Chip giant Intel (INTC) is now preparing to launch its new marketing campaign to promote the new lines of PCs called ultrabooks to compete with Apple's popular line of MacBooks. The campaign is said to be the company's biggest launch in its history since the Centrino while also partnering up with computer giants Hewlett Packard (HPQ) as well as Dell (DELL). Intel kicked off the first ad earlier this week called "A New Era of Computing," and as I've said recently, it's not a coincidence that the campaign will overlap with the release time of Microsoft's (MSFT) highly anticipated Windows 8 operating system.
Sirius XM (SIRI) Trade Update
In my article on Thursday I mentioned that I had set a short limit order on Sirius XM at $2.36. However the order was not filled as the stock topped out the day's session at $2.35. Again, here we are back to that magical number. I think that number represents a lot of things and not the least of which is what I now consider a pivot point for the stock - not to be confused with "pivotal" although that may also have some merit. What I have started to notice with the stock price is that at $2.35 it serves as a boomerang from the standpoint that it has returned back to the point each time it has swayed in either direction. From a technical standpoint, this is a good thing for the stock. From a fundamental perspective, it means absolutely nothing.
So having realized this, I tried to capture an extra penny at $2.36 and hope to cover at $2.26 and not have to deal with what I suspect is now the new base at $2.25. Remarkably, the market was unwilling to oblige. So instead, the stock topped at $2.35 where on Monday of next week it is a sure bet to fall below $2.30 on average volume. The chart below is one such example of how the stock has done this time and time again.
(Click to enlarge)

Click to enlarge
So with the stock now back on the mid $2.30s it is once again approaching that ideal short level. As I said recently, seeing at this level is not a surprise and yet another opportunity to make some money if you are willing to take some risks as the mid to high $2.20s is all but guaranteed - hence wash, rinse, repeat.