We all have at least a few of those so-called friends who are your best bud when times are good, but then stop answering and returning your calls when you have even the slightest problem or favor to ask of them. Well, it looks like the market has no shortage of fair-weathered bulls either.
This week's survey of bullish sentiment from the American Association of Individual Investors (AAII) showed that bullish sentiment dropped from 42.5% down to 38.2%. This marks the first week this year that bullish sentiment dipped below 40%.
If just a couple of down days were enough to send bullish sentiment down below 40%, imagine how low this measure will go if the market actually sees a more meaningful correction of 5% to 10%?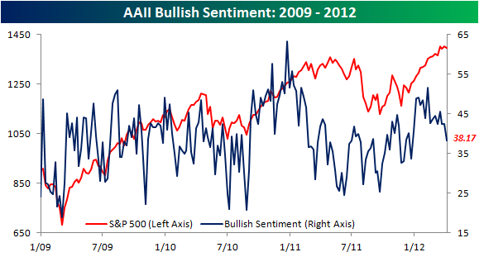 Click to enlarge