Currently, there are 130,000 enterprise accounts on Sina's (SINA) Weibo. According to Sina CEO Charles Chao, that figure is expected to reach 1 million by the end of this year as enterprise users increasingly utilize Weibo and the social trend to promote their products and services, and communicate with consumers. As Sina prepares Weibo for monetization at latter half of this year, enterprises will likely account for a larger portion of Weibo's advertising revenue.
Restaurants, auto, electronics, business services and IT make up Weibo's current top five enterprise clients. In addition, 143 global Fortune 500 companies and 207 Chinese Fortune 500 companies have established enterprise accounts on Weibo.
Because of the increasing importance of social networking, social ad is becoming a critical component of any enterprise's marketing strategy. Weibo offers enterprise users two of three social ad platforms: sponsored story and fan page. The third social ad featuring displayed ads based on user profile is not available due to Weibo's non-real name platform.
click to enlarge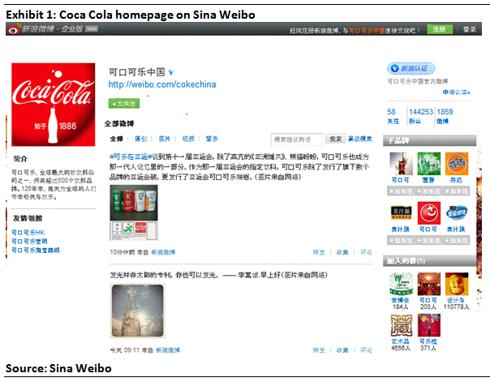 According to industry analysts, 56% of Weibo users follow at least one enterprise account. The large number of followers is an ideal platform to promote a product or service through sponsored tweet similar to that in Twitter.

In China, advertising is extremely effective when endorsed by influential figures, such as celebrities and sports stars. Sina has the largest number of accounts belonging to influential figures from both China and abroad. Companies can not only promote their products and services on their fan page but also through influential figures that are followed by millions of Weibo users.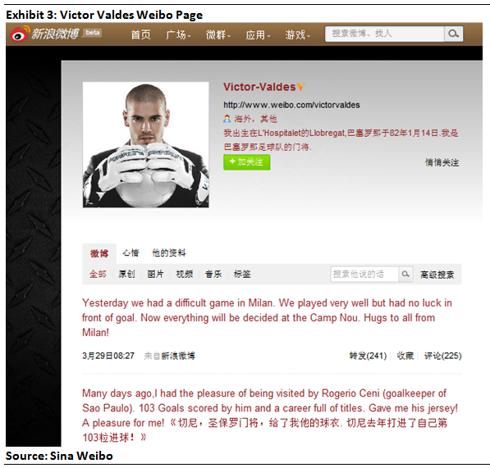 The duo marketing approach allows advertisers to reinforce their message in the minds of consumers, who ultimately drive the company's top line growth. Most importantly, the success of social ad on Sina Weibo makes the platform an effective monetization tool that could push Sina's valuation higher.
Disclosure: I have no positions in any stocks mentioned, and no plans to initiate any positions within the next 72 hours.