There's something special about seeds. They are so tiny and look like nothing, but when you plant, water, and cultivate them, they transform into beautiful flowers and bountiful fruits and vegetables. Jesus taught that we only need faith the size of a mustard seed to move a mountain from here to there. The major global seed producer, Monsanto (MON), stands to benefit from increased agricultural demand. This demand is the seed that will produce higher earnings and stock prices for the company.
Monsanto just revised its earnings per share for 2012 from previous estimates of $3.34 - $3.44 to more optimistic estimates of $3.49 - $3.54. These positive earnings revisions typically lead to positive earnings reports when the quarterly figures are publicized. Monsanto has exceeded its earnings estimates in its last five quarters and it looks like it will accomplish this again for the next quarter.
The company said that a strong seed selling season contributed to its 19% increase in net income for Q2 2012. Monsanto also had increased corn seed sales in Latin America yielding a gross profit increase of 29%. Sales of its largest segment, corn seeds and traits increased 17% overall, while sales of its second largest segment, soybean seed and traits increased 12%.
Good news is being projected for corn for 2012 by the USDA. The U.S. Department of Agriculture is calling for the largest corn acreage in 2012 since 1937. This 75 year high is expected to include a total of $95.9 million acres of corn. This is good news for Monsanto as corn seed is its largest segment.
Monsanto sees solid opportunity in the U.S. that will allow growth to continue through the decade. This is evident with mix upgrades in traits and germplasm, continued volume growth, and pipeline products that are expected to continue growing.
The company sees growth for corn in Eastern Europe and China. There are plenty of acres in both areas and Monsanto is looking at leveraging current capability in these regions.
Monsanto is also positive about its R&D pipeline. It is working on innovations to increase yield every year this decade. Integrated Farming Systems and RNA technologies are being employed to achieve this growth.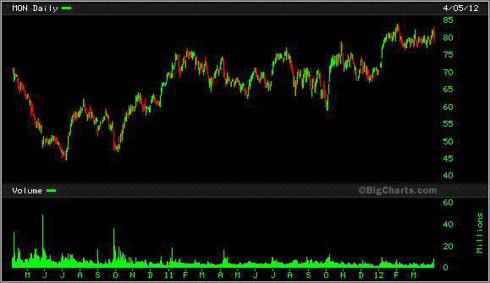 Click to enlarge
The company is fairly valued with a forward PE ratio of 19.37, a PEG of 2.03, and a price to book ratio of 3.91.
Monsanto has a total of 7 upward earnings revisions for 2012 and upward revisions for 2013. It is expected to grow earnings annually at 11.26% for the next five years. The company also pays a modest dividend of 1.5%. With the dividends and earnings growth, investors can expect a total annual yield of 12.76% for the next five years. The stock price should rise to around $135 in 2017 if the company meets or exceeds expectations. Plant a seed in the form of Monsanto stock and watch it grow throughout the remainder of the decade and beyond.
Disclosure: I have no positions in any stocks mentioned, and no plans to initiate any positions within the next 72 hours.