There may be worry these days about the direction Yahoo! (YHOO) is headed in. The fears are validated by a looming internal battle between the stakeholders of the company. Since the introduction of new CEO Scott Thompson in January, there has been a change in the environment surrounding the company.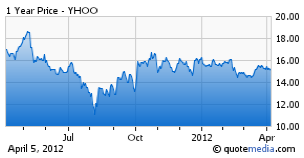 Thompson is focusing on cleaning out the Yahoo! figureheads and getting the company started on a new track. Whether this will inspire the company is yet to be seen. Yahoo! was one of the leaders of the dot com boom and managed to navigate the early storms of the internet era. The problem is that companies like AOL, Google (GOOG) and Facebook (FB) have emerged as internet giants.
Yahoo! has been stuck with the same business strategy for the last 5 years and it has seen a steady decline in its value. In those five years, its two biggest competitors took a step forward to where both Google and AOL have surpassed Yahoo! in share value. Yahoo! is still the middleman of the internet giants but an overhaul is needed to gain ground on Google and keep AOL at bay.
The moves being made by Thompson are unpopular and rather risky but Yahoo! does not have a choice at this point. It had stayed around $30 per share from 2005 to July 2009 at which point it dropped and has hovered around $15 per share since. Yahoo! needs a new look and with the departure of co-founder Jerry Yang, Thompson is willing and eager to oblige.
One Thompson inspired venture involves removing the management who refused to sell to Microsoft (MSFT) for an estimated $30 billion. Yahoo! has a current value of around $2 billion. Thompson has also ruffled the feathers with one of his major stakeholders, Daniel Loeb. Loeb is the chief executive officer for Third Point LLC which is a hedge fund that owns a 5.8% stake in Yahoo!. Thompson declined to allow Loeb, or his constituents, to be on the board and now Loeb is threatening a proxy fight within the company.
Loeb's argument is centered on stakeholder activism while Thompson is arguing that Loeb's position in a hedge fund will cause a conflict of interest on the board. Loeb sees Yahoo! at a crossroads and with the change in leadership he sees an opportunity to bring a new outlook to the company. He states in his letter to Thompson that there needs to be more contributions from individual shareholders and that these contributions will only help the company.
Reshaping the board is only the first of Thompson's moves. He is moving to cut down the Yahoo! work force, possibly by as much as a thousand employees, as early as this week. He is trying to move the company away from its ad business approach and focus on customer data and analytics. The focus is on creating a slimmed-down version of Yahoo! that translates to less employees across the board. Thompson is speaking like a man who is looking for a complete overhaul of the company.
With a complete overhaul and an internal battle looming Yahoo! is a risky buy option but with that risk comes the possibility of a resurrection. If you already own Yahoo! hold on to it until Thompson is settled in and there is a clear sense of where he is going to take this company. Thompson proved himself as the head of the PayPal division of eBay (EBAY) and looking at the recent track record of Yahoo!'s CEOs, it seems that he can only do better.
If you are currently in the market for Yahoo! then it depends on how much you trust the new leadership at Yahoo!. At around $15 per share you could be getting a bargain since over the last few years Yahoo! tops out around $18. Compare that to AOL, which has been selling around $19 per share, and has been hovering around that number for the last 52 weeks. AOL's consistency is nice, and it might have the ability to go up a few points, but there is a looming controversy to be aware of.
AOL just re-signed its CEO through 2016 and the major stakeholders are mounting a campaign for more seats on the board. It may just be a rumor but if there is a power grab then its stock value has a chance to decrease since it already sits at an average high.
Google is a different animal, selling around $647 and has been hitting its stride the last few months. Google struggled a bit through 2011 but has been on a steady growth pattern since the start of the year. It does appear, however, that Google may be topping out and would be a good option to sell or hold on to. It feels a bit overpriced at the moment and the cost to benefit ratio is much better for Yahoo!. Over the last two years Google has not stayed at this level for more than a few months.
Another competitor to be aware of on the horizon is Facebook. Facebook is scheduled to debut with a share value around $44 a share and as Yahoo! moves to a more agile structure they will run into this giant. However, since Facebook has yet to hit the open market yet it's not going to affect your immediate stock values.
So even though Yahoo! is going through a tumultuous time, its low price and new leadership give it some upside. The downside is the internal strife and the fact that Yahoo! appears to be firing a substantial part of the company. My advice would be to wait out the current strife between the stakeholders and see if the price falls any more.
If this is the case, I would start buying Yahoo! because of its track record of returning to form and the leadership of Thompson. His willingness to make tough choices and do the right thing makes me think that Yahoo! might finally be getting its act together. If you have Yahoo!, I will hold on to it and bank on company's past. Besides, it can't get too much lower, so hold on to what you have.