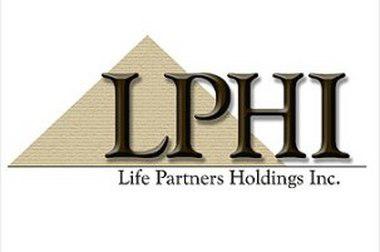 We have initiated a short position in shares of Life Partners Holdings (LPHI) at an average price of $4.09/share. We have set a stop loss to cover at $5/share
Life Partners is a "life-settlement' provider and is engaged in the purchase and resale of life insurance policies to investors. Those who no longer need or want their life-insurance policies sell them, through a broker, to another buyer.
Life Partners works as a middleman between the investor and the consumer who wants to sell the policy. The investor can collect when the respective insured person dies. However, if the insured lives past the assumed life expectancy date, the investor is responsible for covering the premiums - and eventually reducing his/her expected profits.
An old Wall Street Journal piece on the company offered a great diagram (below) which easily explains the business.
The company has long been a target of short sellers, most notably via Citron Research which identified questionable practices at LPHI back in early 2009. The biggest question marks raised by Citron related to the exorbitant commissions earned on deals which appeared to be derived from a complete lack of transparency in reporting.
Also, the company has had several run-ins with state regulators, such as the State of Colorado which ruled that LPHI was selling securities in Colorado without a license--- and that they didn't disclose "the rate in which [the insured] outlived their life expectancies" leading to a ban of any future dealings in the state.
While we wish we had a sizable short on the company back in 2008, we still feel there is ample room to make a tidy profit, even at around $4/share.
There's one reason, and it's a biggie, and a big tangled mess at that. Here you go:
1. SEC Investigation - In January of this year, the SEC filed suit against LPHI and three of its senior executives for their "involvement in a fraudulent disclosure and accounting scheme involving life settlements". According to the SEC:
Life Partners chairman and CEO Brian Pardo, president and general counsel Scott Peden, and chief financial officer David Martin misled shareholders by failing to disclose a significant risk to Life Partners' business: the company was systematically and materially underestimating the life expectancy estimates it used to price transactions. Life expectancy estimates are a critical factor impacting the company's revenues and profit margins as well as the company's ability to generate profits for its shareholders.
The SEC charges are damning. The filing goes on to claim that:
"Life Partners and the three executives were involved in disclosure violations and improper accounting that Life Partners used to overvalue assets held on the company's books and create the appearance of a steady stream of earnings from brokering life settlement transactions."
And it gets worse:
"Life Partners duped its shareholders by employing an unqualified medical doctor to assign baseless life expectancy estimates to the underlying insurance policies"
This whole duping allegation about baseless life expectancy estimates is important. The lower the life expectancy on a policy, the more a firm like Life Partners can charge investors. The warning cry was shouted loud and clear in a WSJ investigative piece from Dec, 2010.
In the report, the WSJ wrote about Donald T. Cassidy, a cancer specialist in Reno who had been providing life expectancy calculations to LPHI. Cassidy described his work for the firm in a deposition relating to the Colorado suit and noted that he received between 33 to 66 cases per day from Life Partners.
As noted in the WSJ piece, a typical life-expectancy firm reviews an average of six a day. Cassidy also mentioned that he unbelievably hadn't been reviewing old estimates for accuracy.
Cassidy's accuracy, not surprisingly, wasn't very good. The Journal noted that it "was able to review about 20 instances where specific individuals' longevity had been projected both by Life Partners and by independent firms that specialize in making such estimates. The independent firms' estimates were greater, generally by 50% to 100%."
In the recent suit filed by the SEC, they crucify Cassidy --
"Estimates were provided by Dr. Donald T. Cassidy, a Reno, Nev.-based doctor with no actuarial training or prior experience rendering life expectancy estimates".
The SEC also alleges that Life Partners and Pardo were well aware of the shoddy work being performed by Cassidy, and they even "instructed the doctor to use a life expectancy methodology that was created by the company's former underwriter, a part-owner of Life Partners."
Oh, and did we forget to mention the SEC accusations of misstated net income and insider trading?
The SEC is alleging that Life Partners materially misstated net income from fiscal year 2007 through the third quarter of fiscal year 2011 by "prematurely recognizing revenues and understating impairment expense related to its investments in life settlements." Life Partners improperly accelerated revenue recognition from the closing date to the date it obtained a non-binding agreement with the policy owner to sell a life settlement. Life Partners use of Cassidy's life expectancy estimates as part of its impairment calculations caused the company to understate millions of dollars in impairment expense.
The SEC further alleges that Pardo and Peden were not so smart when selling stock for some very sizeable gains:
during this time, Pardo and Peden sold approximately $11.5 million and $300,000 respectively of Life Partners stock at inflated prices while in possession of material non-public information about the company's dependency on short life expectancy estimates to generate revenues.
And an amended response to CEO Brian Pardo and General Counsel Scott Peden's request to dismiss the case was just released by the SEC on Monday, April 2, 2012. It gets even uglier. The SEC goes on and on about many of the key points I have mentioned, but in a much harsher tone, including the labeling of CEO Pardo, as a "securities fraud recidivist".
A recidivist, for those not in the know, is a convicted criminal who reoffends, or more bluntly-a habitual offender. Pardo, as I have thus far failed to mention, doesn't have the best track record in the world. Mr Pardo started a solar-heating business in the 80's, American Solar King, which eventually filed for bankruptcy; the SEC accused it and Mr. Pardo of overstating revenue and profits.
Now I'm not exactly sure what's keeping this stock afloat, given all of the allegations against the company and its management. Maybe it's the dividend, which now at $0.10 per quarter equates to a near 10% dividend yield (Note-the dividend was just cut by 50%).
According to fellow contributor Harry Beck approximately half of the dividend goes offshore to the island of Gibraltar, where a trust holds the CEO's shares. And the company paid out a dividend in the fourth quarter despite negative cash flow over the last three quarters. Smells a bit fishy to me. Is Pardo just trying to squeeze every last dime out of the company before the ship finally sinks?
What will likely happen in the forthcoming months is unpredictable as far as the investigation is concerned. Yet, these are serious allegations, most of which appear from the surface to be true. We envision that LPHI will be likely be forced to change its methodology in calculating life expectancies. But there will also likely be fines, punishments, potential prison time, and maybe even restrictions on business practices handed down.
Without the ability to underestimate the life expectancy of policies sold, the company will no longer be able to make claims to investors of double digit returns. This will for certain put a huge dent in future revenues of the company. And the negative press relating to the SEC lawsuit and any potential negative consequences leaves serious doubt about the future of the business.
The company has from my calculations about $17 million in cash on the books, yet there will likely be substantial expenditures in coming months related to Life Partner's mounting legal battles. With negative cash flow and no imminent hopes of a turnaround, the cash could be burned in a few quarters.
There is $6.4 million in a life settlement trust, yet given the blurry transparency for LPHI over the past, we question what the true value might be here.
All in all, we see significant risks for Life Partners moving forward. The company's misleading and deceptive practices have led to inflated profits, revenues and margins for some time now. A pending SEC lawsuit may lead to substantial fines and penalties for the company, which in our eyes could ultimately be the end of the line for Life Partners.
Disclosure: I am short LPHI.