According to Hu Yi, head of mobile division at Dangdang (DANG), Dangdang will further strengthen its mobile e-commerce presence with the introduction of Pinterest-based applications that allow users to post and share theme-based media contents, such as photos and videos, with other users on the main page. In my view, this platform will:
Leverage web 2.0 to allow Dangdang gain deeper penetration into mobile e-commerce
Greatly enhances Dangdang's mobile e-commerce experience
Result in incremental brand building in China's fast emerging lower tier cities
Leverage web 2.0 to allow Dangdang gain deeper penetration into mobile e-commerce. Dangdang's Pinterest-based application will likely allow users to create and share theme-based collections similar to that on Pinterest. Because of Dangdang's leadership in online books, a majority of activities will be related to book recommendations and commentaries. However, as the platform ramps up, I believe users will create different themes on general merchandise and 3C products, such as apparel, electronics and toys.
Dangdang's application will also work as a point-of-sale, in which users can retrieve information on the product that is being shared from Dangdang's website, and make a purchase via their mobile device. I note that Dangdang is already using point-of-sale via its mobile application that allows the user to take a snapshot of the book cover and instantly search for its availability on Dangdang's website. For a closer look at this application, please refer to my February 6th note titled, "Dangdang Mobile App: Improving Shopping Experience; Solidifying Industry Standing."
click to enlarge images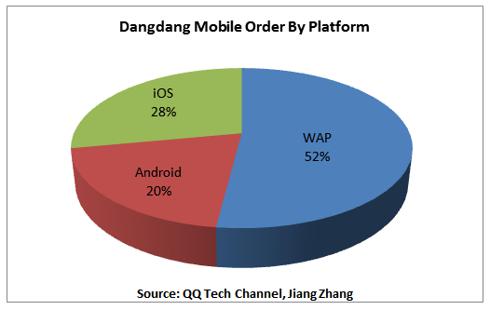 Greatly enhances Dangdang's mobile e-commerce experience. While Taobao relies on Youku (NYSE:YOKU) to provide video descriptions of its products to ensure greater consumer confidence in product quality and shopping experience, (Please see my April 5th note titled "Youku-Taobao: Setting The Bar In China's Video E-commerce Evolution") Dangdang is relying on word-of-mouth and the power of social networking to drive sale.
Word-of-mouth is widely considered the most effective marketing tool. In a 1955 book titled "Personal Influence: The Part Played by People in the Flow of Mass Communication", authors Paul Lazarsfeld and Elihu Katz pointed out that advertisers broadcast their messages to certain individuals, such as opinion leaders, so they can spread the message via word of mouth to their own social networks. Personal influence is an important part of consumers' decision making process, and Dangdang can capitalize on the social action of internet users to drive future sale.
Incremental brand building in lower tier cities. 83% of Pinterest users in the US are women. Assuming that Dangdang's Pinterest-based platform has similar impact to Chinese users, Dangdang could gain incremental brand equity, allowing the company to establish a solid foothold in the fastest growing regions in China.
According to MEC Global, e-commerce penetrations in Tier 3 and 4 cities have risen from 13% in 2007 to 23% in 2011. Spending power of female online shoppers in the lower tier cities increased 146% since 2009 compared to an increase of 45% among female online shoppers in the Tier 1 and 2 cities.
Because female online shoppers from the lower tier cities consist of younger demographics (20 - 29 years old vs. 20 - 39 years old in Tier 1 and 2 cities), 70% of female online shoppers of lower tier cities prefer to use mobile device for internet access and e-commerce. The younger demographics and rising spending power will likely drive further sales growth in general merchandise. I note that the top three shopping categories of the female online shoppers located in the lower tier cities are: 1) apparel/shoes/bags, 2) skincare/cosmetic/perfume, and 3) daily household consumables.
In the foreseeable future we could see increasing contribution from mobile as Dangdang ramps up its mobile initiative. According to Hu Yi, Dangdang is planning on tripling its headcount in the mobile division from the current 50.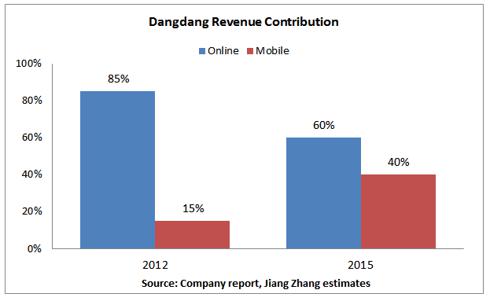 Disclosure: I have no positions in any stocks mentioned, and no plans to initiate any positions within the next 72 hours.