Microsoft (Nasdaq:MSFT) is reportedly in talks to buy a piece of Facebook, and the price tag has tongues wagging. If Microsoft pays as much as $500 million for a 5% stake, as the Wall Street Journal story suggest, it values Facebook at $10 billion--not bad for a four year old private company.
While the price tag is lofty from almost any perspective, the stakes are much more dear than a paltry half a billion dollars for Microsoft and competitors. This is a battle royal for control of the entire high-tech universe. It may be hard to believe, but Microsoft needs Facebook more than the other way around.
Facebook's social network has suddenly infused American culture with a new, singular reason to be online. That's worth something, alright, especially considering the astonishing usage rates by Facebook members. A majority of its 40 million+ users are signing on every day, many times a day. They can't breathe without it. They're on for hours connecting with friends, arranging events, uploading photos, sharing their lives and reading about each others.
Microsoft wants to be king of the jungle, no surprise there. For decades, Microsoft has dominated, evolved, survived, and thrived atop the computing food chain. But the young roar of Google (Nasdaq:GOOG) is mighty, indeed, setting up a classic match-up of youth versus experience. Facebook has reportedly fended off many attempts to buy it outright over the past year from Microsoft, Yahoo!, and others, but the young company seems bent on going public. It's anybody's guess who will win the battle for a piece of Facebook, if anyone, but the move shows just how strategic this social networking space is.
The Internet, and specifically online advertising, has been the one area where Microsoft has struggled to establish leadership. Microsoft is getting licked by Google and Yahoo! in online advertising. Hardly a shrinking violet, it's been try, try again with the old crew from Redmond. MSN may never be the destination that Microsoft wishes it were, but the company is coming from so many other angles and from such positions of strength in software, gaming (X-Box), and operating systems that it's reasonable to think that a deepened relationship with Facebook (Microsoft already has a somewhat exclusive advertising arrangement with Facebook) gives Microsoft another fantastic angle to take on the competition.
Advertising revenue potential is seen as the primary value of Facebook, but investors would be wise to appreciate the worth of Facebook's influence - both on the culture and on the evolution of consumer and online habits. As its core demographic of college kids moves into prime household-formation years (and as head of households succumb to the inevitable Facebook phenomenon), the value of that influence will only grow.
It's no wonder Microsoft is interested, but what's really at stake here is owning the platform (sound familiar, old Microsoft fans?). Facebook is a window to owning that platform, and it can probably raise the money at an attractive valuation with or without Microsoft, or Google or Yahoo. While questions abound as to whether the Facebook audience can be monetized like Google has done with search traffic, Microsoft can afford to take its chances. The estimated $300 to $500 million that Microsoft is talking about spending is a mere 1-2% of its cash reserves and barely one one-thousandth of its $277 billion market cap. Microsoft can afford it. The real question is: Can Microsoft afford NOT to win a deal with Facebook.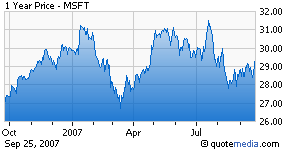 Disclosure: none