By Brendan Gilmartin
Alcoa (AA) is scheduled to report 1Q 2012 earnings after the closing bell on Tuesday, April 10. A conference call will follow at 5:00 p.m. EST. Alcoa is a critical release, as the company is the first of the Dow 30 members to report quarterly results and is often viewed as a proxy for the ensuing earnings season. The results therefore have an impact across the broader market, including the index futures and ETFs.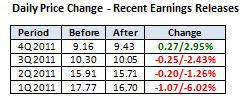 Outliers & Strategy
Sympathy Plays: Kaiser Aluminum (KALU), Century Aluminum (CENX), Alumina (AWC), and Aluminum Corp of China (ACH).
Alcoa is seen posting a loss of -$0.05 (range: -$0.12 to $0.07) per share on revenues of $5.74 bln (Source: Yahoo! Finance).
On the London Metal Exchange (LME), aluminum has fallen 5% from the March 1 peak - an indication demand may be waning.
Following a rough finish to 2011, Alcoa shares have traded in a narrow range this past quarter, hugging the $10-level for a better part of the 1Q. However, the options market is pricing in a roughly 5% to 7% breakout in reaction to the upcoming earnings release.
With a loss projected for 1Q 2012 period, due to a series of restructuring charges, a positive bottom-line figure excluding these items could help left Alcoa shares higher.
Recent News
04/05: Alcoa will reduce its annual alumina production capacity by approximately 390,000 metric tons, due in part to prevailing market conditions. The company said the motivation is to enhance efficiency.
03/27: Stifel Nicolaus lowered its 1Q 2012 EPS estimate on Alcoa from $0.08 to $0.05, citing charges related to plant closings in Europe, according to a post on Benzinga.com. However, strength in the Engineered Products and Solutions segment, slightly higher prices and a higher multiple prompted the firm to raise its price target from $11 to $13.
01/09: Alcoa provided a fairly upbeat outlook for 2012, calling for global aluminum demand to increase by 7% with a deficit in primary aluminum supply. Key growth markets include: Aerospace (10% - 11%), Automotive (3% - 8%), and Commercial Transportation (2% - 5%).
Technical Review
Alcoa shares are off about more than 10% from the March high (near $10.75), mirroring the recent slide in aluminum prices, with the Relative Strength Index pointed toward 30 and the 20-Day SMA slipping below the 50-Day SMA - indications that the momentum is clearly toward the downside. Following the recent slide, the shares are now just above a key support level at $9.50 (March low), with further downside risk to $8.75/$9.00 in the event of a disappointing release. Resistance is at the 50-Day SMA near $10.25, followed by the March high.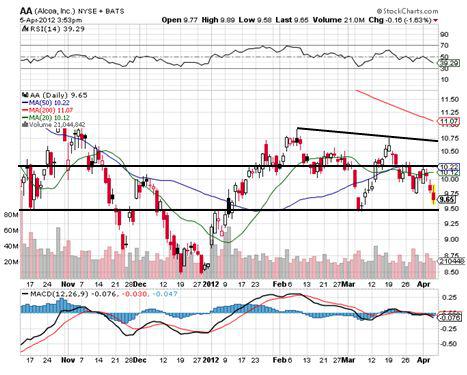 (Chart courtesy of StockCharts.com).
Summary
Alcoa shares are moving lower in advance of the 1Q 2012 earnings release amid concerns that softness in Europe and declining prices could put a dent in the recent quarter's profits. But with recent signs of strength in the aerospace and automotive markets, particularly in North America, a more favorable valuation picture, tight supply and reduced sell-side expectations, any weakness may be priced in following the recent slide and technical support at these levels. A profit for the 1Q 2012 period would be seen as an upbeat surprise.
Disclosure: I have no positions in any stocks mentioned, and no plans to initiate any positions within the next 72 hours.
Disclaimer: By using this report, you acknowledge that Selerity, Inc. is in no way liable for losses or gains arising out of commentary, analysis, and or data in this report. Your investment decisions and recommendations are made entirely at your discretion. Selerity does not own securities in companies that they write about, is not an investment adviser, and the content contained herein is not an endorsement to buy or sell any securities. No content published as part of this report constitutes a recommendation that any particular investment, security, portfolio of securities, transaction or investment strategy is suitable for any specific person.