Several important data points were released in the past week. The stocks started the week with a boost due to improving manufacturing activity report. The manufacturing productivity index of 53.4% was better than the previous observation of 52.4%. The following day, stocks showed a big disappointment, as the Federal Open Market Committee meeting did not hint any sign of another quantitative easing program. Apparently, the Fed will keep following its operation twist plan, buying long-term duration bonds in exchange for short-term securities. The losses extended to Wednesday. The lower-than-expected data on service-sector index, combined with weak demand for Spanish bonds caused a negative atmosphere in the equity markets. With no good news to push the stocks higher, the markets ended the week mostly in the red territory. When we look at the sectors, financials were the worst performers, followed by industrial companies and conglomerates. Only utility and healthcare stocks ended the week with slightly positive returns.
Amidst this investing atmosphere, several stocks made it to new highs in the past few weeks. A stock is usually considered overbought when the relative strength index reaches above 70. That does not mean that these stocks are expensive stocks. I would rather consider them momentum stocks, supported by short-term catalysts. Nevertheless, overbought stocks signal a red flag for contrarian investors. Based on the Relative Strength Index [RSI] indicator, I noticed 5 stocks that are in the overbought territory. Let's see, what is driving these stocks, and whether they are still worth to consider after making significant gains recently.
Apple (AAPL) - Wait for a Pullback
It is no brain drainer that everybody loves Apple. We can't deny the innovation Apple brought to the tech market. If Apple didn't exist, there wouldn't be this much variety of smart phones around. Apple forced its competitors to work so hard in order to catch up. Therefore, this market has developed exceedingly fast in the last couple years. It is worth to state that iPhone is still the reference for smart phone design, and almost all of the smart phones are "versions" of iPhone under different brand names and minor shape differences. This prestige in the smart phone market plays a vital role in Apple's success. Because of its success in innovation, the market is quickly filled with imitations as soon as Apple releases something. Cell phone producers do not compete with each other anymore, their main target is to catch up with iPhone only. Thanks to these achievements, Apple has been one of the top performing stocks in the world. During the past 5 years, Apple shareholders enjoyed an annualized return of 45%.
click to enlarge images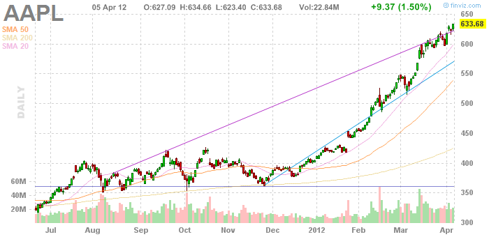 (Source: Finviz)
Apple also returned 56% in this year alone. Based on a conservative growth estimate of 20%, my fair value range for Apple suggests a target price of $750. I think Apple still has some upside potential left. However, the stock has gone hyperbolic over the last few months. Looking at the graph above, one can see significant gaps at the $420 - $450 and also $550 - $580 ranges. Therefore, I think a pullback should be waited for.
The Coca-Cola Company (KO) - Hold
Coca-Cola, a Warren Buffet favorite, has also shown a remarkable performance recently. In the past 2 weeks, it returned almost 15%. Established in 1886, the Atlanta-headquartered Coca-Cola has become synonymous with its product. It is a truly global company with strong presence all around the world. The stock has been a long-term outperformer, but it recently got into extremely overbought territory.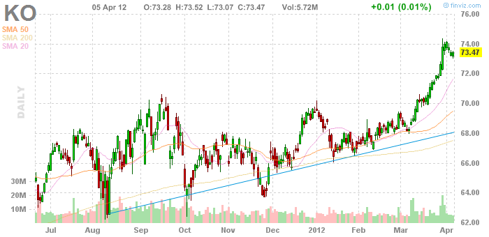 (Source: Finviz)
I think Coca-Cola is a successful company with a great moat in its business field. However, looking at the most recent news, I do not see any catalyst for the stock's recent move. Analysts estimate an annualized EPS growth of 8.40% for the next 5 years. This is a reasonable estimate given the company's past performance. Based on this estimate, my FED+ fair value range is $56 - $70. At the current prices, the stock is overvalued. UBS agrees with me as it has a target price of $70. Stifel Nicolaus also has a hold rating. Therefore, I rate Coca-Cola as a hold.
Philip Morris (PM) - Sell
Philip Morris is one of the most stable companies in the business. The company has been quite an outperformer since its spin-off. Earnings per share [ttm] is going straight up for some time. The company generates a solid cash flow due to its global field operations. However, after returning 40% in the last year, the stock is trading slightly above my target price.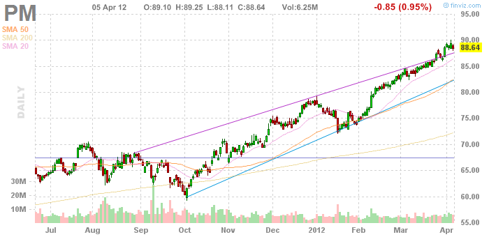 (Source: Finviz)
Phillip Morris has several well-known brands in its portfolio. Marlboro, Parliament, Muratti, Lark, and Chesterfield are among the several cigarette brands offered by Phillip Morris. The company also established strong alliances with several local cigarette companies. Thanks to its increasing profits, it has been a great hold in the last 3 years. Since its dip of $30 in 2009, the stock returned 200%. However, I think the company's future prospects are already priced by the market. At the current prices, it is trading with a premium to analyst estimates. Therefore, I rate Phillip Morris as a sell.
Abbott Laboratories (ABT) - Hold
Established in 1888, Illinois-headquartered Abbott is one of the largest drug manufacturers in the world. The company employs more than 90,000 workers worldwide. In an industry where takeovers and acquisitions are common, Abbott decided to separate itself into two companies. Abbott recently announced that it will split into two companies: One of the new companies will specialize in diversified medical products; the other will specialize in research-based pharmaceuticals. I think both companies will be highly profitable. The market did not show much reaction initially to this movement, but the stock has been moving up for the last 6 months.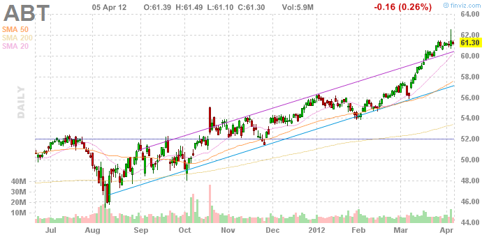 (Source: Finviz)
6 months ago, I suggested Abbott as a dividend pick for the next 5 years. Since then, the stock returned 22%. I still think Abbott is a great buy for the dividend. However, the stock moved into my fair-value range of $57 - $74. It is also trading just an inch below analysts' target estimates. Therefore, I rate it as a hold.
Priceline.com Incorporated (PCLN) - Wait for a Pullback
Established in 1997, the Norwalk, Connecticut-headquartered Priceline has quickly grown into a worldwide online booking agency. With a market cap of $37.7 billion, Priceline is another example of how internet helps to transform a simple idea into a gigantic-sized enterprise. The company has become a global leader in online hotel reservations with over 170,000 participating hotels around the world. Booking.com, priceline.com, agoda.com, and traveljigsaw.com are among the most popular brands within the company's portfolio. Thanks to its large scale of operations, the company has an operating margin of 24%. Its profits were up by almost 100% in this year. The stock has also been an outperformer, returning 62% in this year alone.
(Source:Finviz)
The stock still looks like a good deal, but current price of $756 does not offer much margin of safety. Besides, I see a huge gap near $600, which I expect to be filled in the next market correction. Therefore, I rate Priceline as a hold for the moment.
Disclosure: I am long AAPL.