I have never been a big fan of the alternative energy space for investing. First, the government subsidies that keep the sector afloat runs counter to my fiscal conservative, small government ideology. It also always seems to create debacles as government is a terrible allocator of capital (see Solyndra). Finally, when government support is inevitably withdrawn the favored sector gets crushed.
Look no further than what has happened to the solar complex as worldwide subsidies (e.g. Germany) have been cut drastically. Firms that supply this sector like First Solar (FSLR) and MEMC Electronic Materials (WFR) have been decimated over the last year (see chart, click to enlarge images).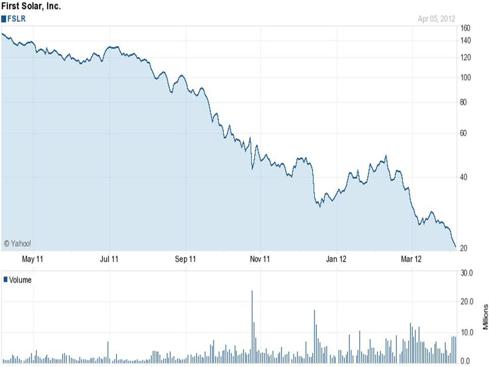 That being said, I am about to make my first investment in "clean" energy segment in a very long time as this stock's risk/reward profile is too good to pass up, in my opinion.
Lime Energy (LIME)
Business description from Yahoo Finance (here):
Lime Energy Co. provides energy engineering, consulting, and implementation solutions to the commercial, industrial, utilities, governmental, and energy services markets in the United States.
7 reasons LIME is worth a flyer at under $3 a share:
It manufacturers no product. Instead it provides services and consulting to entities initiating "green" projects.
Its main customers (governments, utilities, etc…) provide stable sources of revenues. Sales are predicted to increase around 20% in both FY2012 and FY2013.
Insiders have been net buyers of the stock over the last eight months.
It finally turned operating cash flow positive in 4Q2011, it has net cash on the balance sheet and is priced at 58% of revenue.
Only two analysts cover the stock. One has a $7 price target and the other an $8 price target on LIME.
The company is poised to sharply accelerate EPS in the next two years. Although it lost 17 cents in FY2011, it is expected to make a 6 cent a profit in FY2012 and 21 cents a share in FY2013.
The stock has long term technical support at just under current prices (see chart):