It was an interesting week last week for Sirius XM (SIRI). Monday saw a brand new 52 week and 3.5 year high close of $2.40 with an intra day hit at $2.41. This was followed by a quick retrace on a couple of down market days, to $2.29 with the week itself closing at $2.35, or up 4 cents for the week. Quite positive behavior considering a bearish week on the macro level and an overall loss for the markets.
Something very important to look at when considering share price activity, is money flow. This is a measure of on which side of the coin, either the bid or the ask, that most trades were made. If more trades are going for the lower bid price, you would find a negative money flow in the stock. If more trades are going for the ask price, you would find a positive money flow in the stock.
Obviously, positive money flow is better than negative money flow.
For last week, Sirius XM had money flow into the stock between regular and large block trades of over $244 million. Bullish activity, especially considering that represents nearly 3% of Sirius XM's market cap. Even on the down days for share price on Tuesday and Wednesday, money flow was positive.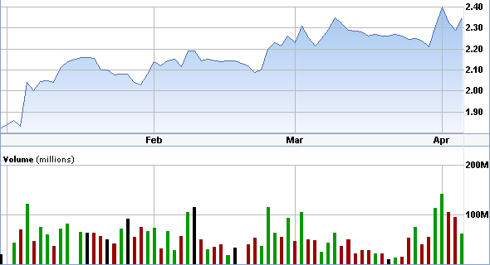 Click to enlarge
If you'll remember from my previous articles illustrating Sirius XM's now reasonably predictable behavior, we are at a point in those patterns where we should begin to appreciate towards $2.50. Of course, due to the rapid nature of the recent increase due to the unexpected developments surrounding Liberty's (LMCA) petition to the FCC and Sirius XM's request for dismissal, a bit of increased volatility has been introduced.
Because of the media focus on the Liberty vs. Sirius XM issue, I believe the actual expected "good news" which was March auto sales data, was pushed under the radar. March auto sales were very good to excellent, and should come into the spotlight a bit more in the coming week with regards to Sirius XM.
Depending on how speculation plays out as to if or when Sirius XM will raise subscriber guidance, we could see share price appreciation to $2.44, or the 52 week intra day high, over the coming week. I personally believe we are due for a new 52 week overall high in the next week or two simply out of organic appreciation, and without any actual "news." $2.30 to $2.50 is my new trading range, marking buys for long entry and for traders near the bottom end around $2.30, and potential sales around $2.50.
It's very important to consider, though, that while the $2.50 barrier is likely to be strong in the absence of news, it could very well be blown through with additional Liberty developments that end up being positive for Sirius XM. It's also possible that Sirius XM increases expectations before the estimated Q1 conference call date at the beginning of May. If either of these happen, the share price could very well enter into territory which has been untested in the last 3.5 years.
Keep in mind that Sirius XM is not immune from the effects of overall market conditions, so keep an eye on the macro situation and plan accordingly. Also, if negative news comes through the pipeline surrounding Liberty and the FCC, the share price could drop.
The most important thing to watch for this week is acceptance of auto data. Although I don't put much weight behind them, keep an eye out for analysts to chime in with upgrades or downgrades as well. I'll be looking for gradual increases in share price as the week progresses. $2.44 should be hit, and the price should trend upwards overall from $2.35 towards the $2.50 target.
Disclosure: I am long SIRI.
Additional disclosure: I am long SIRI April, May, and June $2 call options.