In early March, I took Skullcandy (SKUL) off my buy list of stocks with insider buying activity because the CFO, who was the main insider buying shares, resigned from the company (see "Removing Skull Candy From Buy List Of Insider Stock Purchases"). What I did not realize at the time is that short interest in SKUL had surged about 14% going into that announcement. Short interest surged about another 11% after the CFO's resignation. Shorts have increased consistently throughout SKUL's short life as a publicly traded company. Indeed, as of March 15th, shorts represent an incredible 124% of SKUL's float.
click to enlarge images
Shorts pile into Skullcandy
Source: NASDAQ.com short interest for SKUL
Based on the company's recent earnings reports, SKUL seems to be doing just fine. The stock gapped up 11% after SKUL guided EPS up in its first earnings report, November 3, 2011. SKUL reaffirmed guidance after its January 10, 2012 earnings report. SKUL trickled down to a post-IPO low two days after that but has not looked back ever since (that was also around the last time I bought SKUL shares).
So, I am not sure why shorts are so excited about this company except that, perhaps, they think SKUL's stylish audio accessories represent just another fashion fad waiting to die. Even if this is a passing fad, shorts seem over-eager and far too early. It is not likely a fashion fad will die so soon after an IPO. Perhaps shorts smell blood because SKUL closed below its $20 IPO price on just its second day of trading on July 21, 2011. The IPO was probably doomed given its timing just ahead of the summer's massive sell-off. However, even as the stock market has fully recovered to new multi-year highs, SKUL has yet to regain its IPO price, much less achieve new highs.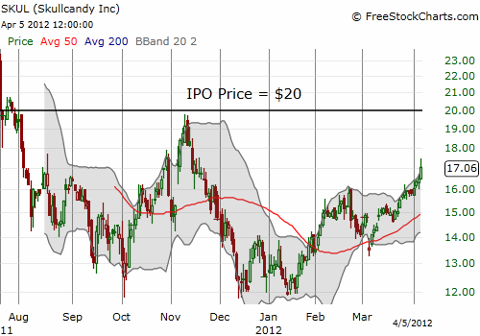 Click to enlarge
SKUL has traded below its IPO price since Day #2
Source: FreeStockCharts.com
(I did not include volume in the chart because it is overly distorted by the 11.5M shares that traded on the first day. SKUL now averages only 554K shares traded per day).
Regardless, shorts are currently paying a small price for being early. After the stock gapped down 8% on news of the CFO's resignation, it fully recovered its losses in four days. The stock has GAINED an additional 15% since then. Suffice to say, I will be watching the company's next earnings report with a lot more interest now. The huge short interest in this stock is setting up a potentially massive short squeeze.
Be careful out there!
Disclosure: I have no positions in any stocks mentioned, but may initiate a long position in SKUL over the next 72 hours.