Actionable Items:
CEF Weekly Review: On average, the 13 closed-end fund (CEF) types registered a share price decline of 0.5% for the week ending 4/5/12. The PowerShares CEF Income Composite (PCEF), an ETF that invests in taxable income CEFs, decreased 0.6% for the week. PCEF is up 5.6% YTD on price appreciation. Currently, PCEF's trailing twelve months' yield is 8.1%. The S&P 500 decreased 0.7% during a holiday-shortened week on a continuation of tepid share volume (see below). The S&P 500 is still up an impressive 11.2% YTD.
click to enlarge images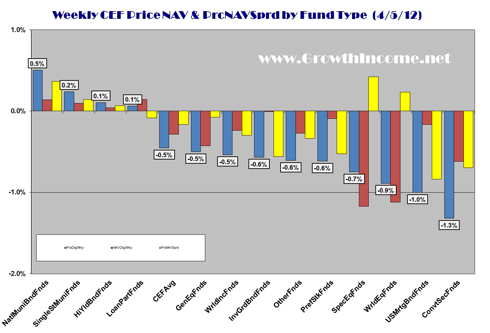 CEF Weekly Fund Type Performance: Fixed-income fund types continued last week's advance. Both NatlMuniBndFnds and SingleStMuniFnds posted positive results of 0.5% and 0.2%, respectively. ConvtSecFnds which was last week's winner with a 1.9% advance gave most of that back this week with a decline of 1.3%. USMrtgBndFnds on average declined 1.0%. This may reflect "Operation Twist" impending conclusion and no QE3 yet in sight.
Weekly CEF Winners and Losers: One of the CEFs with the greatest positive PrcNAVSprd* for the week was Invesco Value Muni Income Fund . IIM's share price advanced 6.7% while it's NAV per share advanced 0.1% generating a positive PrcNAVSprd of 6.7%. Most of that advance came on Thursday with a 6.1% jump in the stock price on share volume of 346,400. This is versus its 3 month average daily volume of 79,305. There was no news regarding the stock that hit the major news services.
IIM invests in investment grade muni bonds and employs effective leverage at 33% of net assets. It is trading at an annualized monthly nominal yield of 5.4% and an effective after-tax yield of 8.3%. The shares had recently been traded as high as a 9% premium in early March-prior to the CEF muni crunch. At its current price, shares are back to a 3.5% premium. The stock goes ex-dividend April 11th for the month.
The CEF(s) with the greatest negative PrcNAVSprd for the week was several of the single-state New Jersey muni funds that polled near the bottom of the PrcNAVSprd range. Of the 13 funds with the high negative PrcNAVSprd, five of them had New Jersey in their name.
The CEF with the greatest negative PrcNAVSprd was BlackRock New Jersey Investment Quality Muni Trust. RNJ share price declined 4.9% while it's NAV per share advanced 0.1% generating a negative PrcNAVSprd of 5.0%. RNJ is one of the three BlackRock CEFs where the board has approved a plan of liquidation. The other two include included BlackRock Investment Quality Muni Income Trust (RFA) and BlackRock New York Investment Quality Muni Trust (RNY).
RNJ had recently been trading at a premium and liquidation would likely generate less than NAV after all liquidation expenses. Interestingly, several of the non-BlackRock advised NJ funds were caught up in the downdraft.
Invesco VK Trust for Investment Grade NJ Munis (VTJ) and Nuveen NJ Premium Income Muni Fund experienced negative PrcNAVSprds of 3.5% and 2.7%, respectively. Neither has announced liquidation plans. NNJ is trading at a 5.7% annualized nominal yield and at a 3.2% discount (see: "CEF Focus Stock(s) for the Week"). VTJ trades at an annualized nominal monthly yield of 6.6% and is trading at a 2.6% premium.
CEF Focus Stock(s) for the Week: Nuveen NJ Premium Income Muni Fund . NNJ was one of the stocks caught in the New Jersey muni downdraft last week. Part of the reason may have been BlackRock New Jersey Investment Quality Muni Trust Board's approval to liquidate the fund while it was selling at a premium.
NNJ's annualized monthly distribution yield is 5.7% and on an after-tax equivalent basis 8.8%. The stock was off 2.5% while its NAV was up 0.2%. NNJ has $285 million in assets with 80% of its portfolio rated "A" or better. It has $88 million in variable rate demand notes constituting its outstanding debt and representing 32% of total net assets.
We are unaware of any material rating chance for municipal bonds for the state of New Jersey.
Last Week's Focus Stock(s): The focus stock last week was PIMCO High Income Fund . We marveled at PHK's ability to defy investment logic while sporting a premium of 65%, declining earnings and a distribution that is being inadequately covered by net investment income.
Possible Sources of Support: Two things that may have help boost the stock this week. One was the rally in the bond market as the investors' abandoned the "risk trade". The other was a lead story in the WSJ regarding Bill Gross', the portfolio manager of PHK, improved performance of the Firm's $250 billion flagship mutual fund: Total Return Fund.
Obviously, we're missing something. We've been upfront about our inability to predict the trajectory of this stock. PHK may have been elevated to "cult stock status". This is a stratosphere were fundamentals are no longer the driving force behind its performance.
Bill Gross' Used Car: The following is an analogy one would have to agree with in order to add incrementally to PHK.
You go into your car dealer looking for a new luxury car. There is one on the showroom floor that is retailing for $68,000. However, the dealer and you work a deal where you agree to pay $111,000 for the car, 65% more than the list price. The reason behind your acceptance of this premium price is that you're offered: 1) free financings for the next twelve months after which that the rate will float with LIBRO; 2) you're given a discount on your gas purchases for the next year (PHK's current yield premium); 3) the car was previously driven by Bill Gross, the "bond king" and founder of the largest global fixed-income advisor, PIMCO.
If this is a deal you find appealing, then PHK is an investment you should consider.
Note of Caution: While traders can take care of themselves, the average investors looking at the yield of 11.3% might overlook the excessive valuation and be less nimble to time their exit correctly. Remember, since most of PHK's investments are Level II, this means that they're being evaluated through an indirect pricing model approved by PIMCO. What this means is PIMCO is indirectly telling you you're overpaying on a NAV evaluation basis.
Caveats: Visibility regarding non-interest rate earnings and profits from hedging is low and could play a meaningful role in generating earnings to support distributions as well as the difference between GAAP versus Earning & Profit (tax) accounting-the latter which is the basis for distributions.
Secret Sauce: If anyone has a thesis why this stock should be trading at a 65% premium then please let us know, because there is a critical piece of information that we're missing.
PHK stock was up 0.9% this week and will be going ex-dividend on April 10th on its $0.12875 monthly distribution.
[*] All things being equal, price and NAV should move in tandem. A price movement greater than the NAV generates a positive PrcNAVSprd and may be interpreted as negative on a near-term basis and indicate that the stock is overvalued relative to its NAV which in theory is the stock's intrinsic value. The opposite would be true for a negative PrcNAVSprd.
Disclosure: I am long PHK, PCEF, IIM, RNJ, NNJ. I own a diversified portfolio of CEFs and ETFs and am long stocks in the CEFBig10™ and CEFMuni10™.) The first is a balanced equity-income portfolio (CEFBig10™) and the second a tax-exempt income portfolio (CEFMuni10™).