With a market cap of nearly $4 billion, the ProShares UltraShort 20+ Year Treasury ETF (TBT) is one of the most popular leveraged ETFs around. With the recent chaos surrounding the Velocity Shares Daily 2x VIX Short Term ETN (TVIX) it makes sense for investors to take a closer look at their ETFs.
Prospectus (see here):

ProShares UltraShort 20+ Year Treasury seeks daily investment results, before fees and expenses, that correspond to twice (200%) the inverse (opposite) of the daily performance of the Barclays Capital U.S. 20+ Year Treasury Index.
Essentially, TBT is the leveraged inverse version of the iShares Barclays 20+ Year Treasury Bond Fund (TLT). When comparing TBT to TLT, it is important to remember that TBT should provide -2x the total return of TLT. The reason for this is the yield associated with TLT. TLT currently yields 3.4%.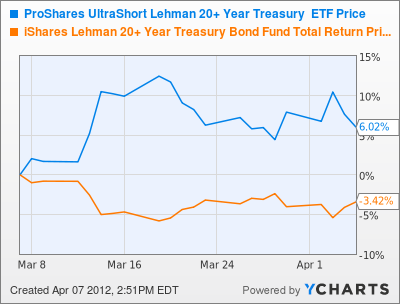 Over the past month, TBT has done a relatively good job.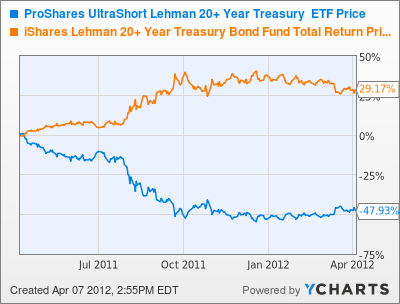 Over the past year, TBT has not done as good of a job as it has done over the short-term. While TBT has done "better" than it should, the tracking error is of concern. The reason why TBT has done better than it should have over the past year has to do with compounding.
ProShares does a good job of explaining compounding on its website:
In a low-volatility downward-trending market, compounding can also result in longer-term returns that are less negative than the sum of the individual daily returns.

An investor who starts with $100 in an investment that declines 10% a day for two consecutive days would have $81, or a -19% return. This is less negative than the sum of the individual day returns, or -20%.
TBT is unusual because it tracks a low-volatility asset, treasury bonds. For this reason, TBT is better than most leveraged ETFs. Many of these products have major tracking errors over the long-term.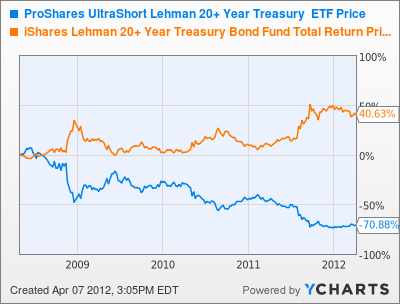 Over the long-term, TBT is close to where it should be. However, the fact that TBT is doing "better" than it should is not necessarily a good thing. If the treasury market were to take a hit, TBT would probably not generate the 2x leverage that holders are hoping to get because of the low-volatility of the tracking index.
TBT's problems compare favorably to those of the Direxion Shares 20+ Year Treasury Bear 3x Shares (TMV).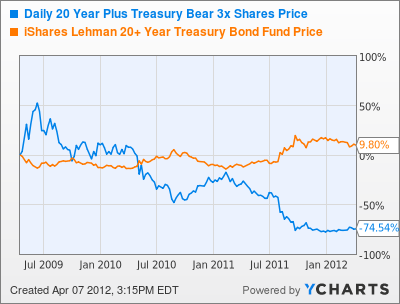 TMV should be traded only by those with a very short time frame. TBT, on the other hand, is a better long-term play on rising interest rates than TMV.
Conclusion
While TBT is designed for short-term traders, the ETF does a decent job over the long-term for investors who want to bet on a rise in interest rates.
Disclosure: I have no positions in any stocks mentioned, and no plans to initiate any positions within the next 72 hours.