"Food should be fun." - Thomas Keller
Since mid-August, investing in Agriculture on average has been extremely difficult, particularly when considering the opportunity cost of keeping capital in soft commodities as equities worldwide have been rallying and outperforming. Take a look below at the price ratio of the PowerShares DB Agriculture ETF (DBA) relative to the Dow Jones Industrial Average (DIA). As a reminder, a rising price ratio means the numerator/DBA is outperforming (up more/down less) the denominator/DIA.
click to enlarge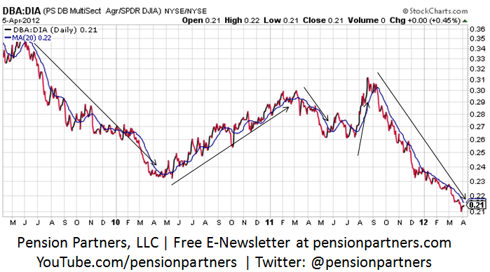 I've annotated the chart to show that the ratio actually appears to have fairly defined trends, underperforming in 2009, outperforming in 2010, and really weakening since late August 2011. While rising food prices are certainly a hot-button topic for many individuals, trying to invest on the idea of rising food prices has been a challenge. Part of this has to do with the fact that DBA is a futures-based product, which in periods of contango tends to not perform as well since expiring futures contracts result in the ETF being forced to buy near-month future contracts which are generally more expensive to purchase than spot. This continuous roll-over of futures is a cost that negatively impacts the ETF.
I suspect that the ratio is relatively close to some kind of bottom whereby equities either weaken or DBA begins to lead as investors rekindle expectations for further stimulus by the Federal Reserve in light of the poor jobs data that came out on Friday. If anything, investors may look to Agriculture purely as a mean reversion trade. For now the trend remains down, but this is certainly an area to keep an eye on for a potential 2010 period of strength to come.
Disclosure: Pension Partners, LLC, and/or its clients may hold positions in securities mentioned in this article at time of writing.