Research In Motion Limited (RIMM) was incorporated under the Business Corporations Act in 1984. Headquartered in Waterloo, Ontario, RIM became a technology giant by the end of the last century. The company is best known for its wireless mobile communication devices. RIM designs, manufactures and markets high-end products such as smart phones and accessories, Bluetooth devices, chargers, batteries, as well as card readers. RIM's product line also includes products based on touch-screen technology. In 1999, RIM presented one of the most practical devices of the century. BlackBerry came into customers' use and it has been a great success so far. In the last year, the company generated a net income of $1.16 billion from revenues of $18.44 billion. Surely, that was much lower than the previous year results. However, investors have over-reacted to Apple's (AAPL) dominance in this industry, driving down the RIM stock to significantly lower levels.
As of the time of writing, RIM was trading at $12.67 with a 52-week range of $12.45 - $57.32. Currently, it is trading near the dip of its trading range. The company has a market cap of $6.5 billion. Trailing twelve month [ttm] P/E ratio is 5.71, and forward P/E ratio is 7.08. P/B, P/S, and P/CF ratios stand at 0.6, 0.3, and 2.3, respectively. Operating margin is 8.08%, and net profit margin is 6.31%. RIM does not have any debt issues. Research In Motion's debt/equity ratio is 0.
RIM has a 3-star rating from Morningstar. Average five-year annualized growth forecast estimate is 6.40%. Among Reuters' analysts 2 have buy, 2 have outperform, 32 have hold and 7 have underperform, 8 have sell ratings.
What is the fair value of RIM given the forecast estimates? We can estimate the fair value using discounted earnings plus equity model as follows.
Discounted Earnings Plus Equity Model
This model is primarily used for estimating the returns from long-term projects. It is also frequently used to price fair-valued IPOs. The methodology is based on discounting the present value of the future earnings to the current period:
V = E0 + E1 /(1+r) + E2 /(1+r)2 + E3/(1+r)3 + E4/(1+r)4 + E5/(1+r)5 + Disposal Value
V = E0 + E0 (1+g)/(1+r) + E0(1+g)2/(1+r)2 + … + E0(1+g)5/(1+r)5 + E0(1+g)5/[r(1+r)5]
The earnings after the last period act as a perpetuity that creates regular earnings:
Disposal Value = D = E0(1+g)5/[r(1+r)5] = E5 / r
While this formula might look scary for many of us, it easily calculates the fair value of a stock. All we need is the current-period earnings, earnings growth estimate, and the discount rate. To be as objective as possible, I use Morningstar data for my growth estimates. You can set these parameters as you wish, according to your own diligence.
Valuation
Historically, the average return of the DJI has been around 11% (including dividends). Therefore, I will use 11% as my discount rate. In order to smooth the results, I will also take the average of ttm EPS along with the mean EPS estimate for the next year.
E0 = EPS = ($2.22 + $1.79) / 2 = $2.00
Average five-year growth forecast is 6.40%. Book value per share is $19.27.
The rest is as follows:
Fair Value Estimator

V (t=0)

E0

$2.00

V (t=1)

E0 (1+g)/(1+r)

$1.92

V (t=2)

E0((1+g)/(1+r))2

$1.84

V (t=3)

E0((1+g)/(1+r))3

$1.77

V (t=4)

E0((1+g)/(1+r))4

$1.69

V (t=5)

E0((1+g)/(1+r))5

$1.62

Disposal Value

E0(1+g)5/[r(1+r)5]

$14.75

Book Value

BV

$19.27

Fair Value Range

Lower Boundary

$25.60

Upper Boundary

$44.87

Minimum Potential

%101.98

Maximum Potential

%254.00
(You can download FED+ Fair Value Estimator here.)
I decided to add the book value per share so that we can distinguish between a low-debt and debt-loaded company. The lower boundary does not include the book value. According to my 5-year discounted-earnings-plus-book-value model, the fair-value range for RIM is between $25 and $45 per share. At a price of $12.67, RIM is at least 51% undervalued.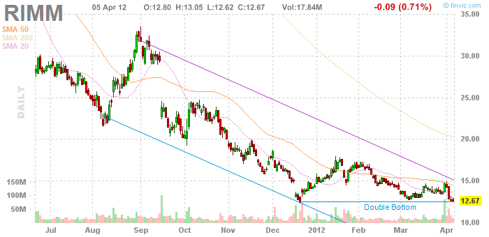 (Source: Finviz)
Summary
Technology stocks are pretty cheap in general, and RIM is no exception. It is trading at a significant discount to the rest of the market. RIM was trading for as high as $146 on June, 2008. However, it collapsed to $36.30 on December, 2008. There were some signs of recovery, where the stock moved up to as high as $80 in 2010, but it could not stay there long. Since then, RIM is behaving like a falling knife. On December, 2011, the stock was trading as low as $12.45. This week, it showed a second dip at $12.67.
Based on my FED+ valuation, RIM is trading at least 51% below its fair value range. I think RIM could be a good speculative buy. The mobile industry is going through significant transformation, and RIM has been lagging behind its peers for a while. However, RIM does not like to give up. Although its playbook product line did not get much attention from consumers, the company is expected to unveil the new BB10 playbook in soon future. That move might not be enough to reverse the destiny of this company. But the company is going through significant reorganization. New strategic alliances and RIM's refocus on the enterprise business can push the stock back to its glorious days. Besides, the stock has already multiple-bottomed. This is why I think RIM is ready for a big bounce.
Disclosure: I have no positions in any stocks mentioned, and no plans to initiate any positions within the next 72 hours.