Shares of copper miner Freeport McMoRan (FCX) are down 4.5% so far in 2012. Comparably, shares of aluminum producer Alcoa (AA) are up 4.1% so far in 2012. FCX's underperformence of AA is notable because copper has outperformed aluminum so far in 2012.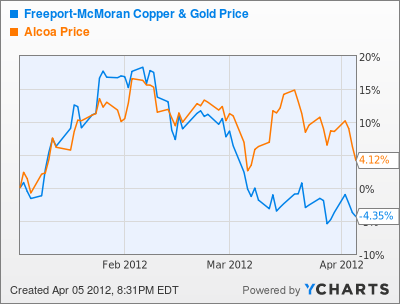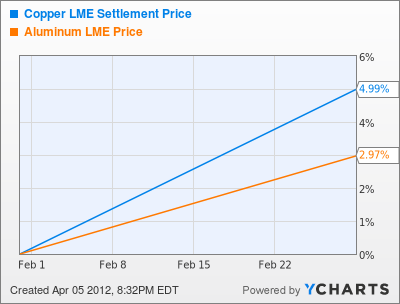 The underpermormance of FCX relative to AA during a period when copper prices have been stronger than aluminum prices presents investors the opportunity to move out of the lower quality AA and into the higher quality FCX.
Dividend
FCX pays a annual dividend of 3.31%, this compares favorably to AA's dividend of 1.25%.
Debt
AA has $7.43 billion in net debt, while FCX has no net debt. This is even more impressive because FCX is a much larger company than AA. FCX has a market cap of $35 billion where as AA has a market cap of $10 billion.
Conclusion
Investors should consider using the divergence between AA and FCX, relative to aluminum and copper prices, to swap out of AA and into FCX.
Disclosure: I have no positions in any stocks mentioned, and no plans to initiate any positions within the next 72 hours.