As new fundamentally-weighted ETFs come to market and those already listed continue to grow in assets, the debate about the merits of fundamental indexing rages on. Don't worry; this isn't about rehashing the arguments for or against.
Instead, let's suppose you're sold on the concept, or at least convinced enough that you want to create a global investment portfolio using these new funds. Luckily, PowerShares now offers six fundamentally-weighted funds that allow you to cover most of the world:
· PowerShares FTSE-RAFI U.S. 1000 (PRF)
· PowerShares FTSE-RAFI U.S. Small & Mid 1500 (PRFZ)
· PowerShares FTSE-RAFI Dev. Markets ex-US (PXF)
· PowerShares FTSE-RAFI Europe (PEF)
· PowerShares FTSE-RAFI Japan (PJO)
· PowerShares FTSE-RAFI Asia ex-Japan (PAF)
The one significant hole in coverage is a fundamentally-weighted Emerging Markets fund, which according to PowerShares' website should be listed in the near future. At any rate, once you've decided to go the fundamental route, the question for you is no longer "Is fundamental-weighting better than market cap weighting" but rather, "Which of the fundamentally-weighted funds are most attractive?"
To begin to answer that question, we've compiled some, well, fundamental data, on these fundamentally-weighted funds. Figure 1 below shows the price-to-earnings ratio on 2007E EPS for each of the six ETFs. In the U.S., the small & mid-cap stocks in PRFZ are considerably more expensive than their large cap counterparts in PRF (as is the case with their comparable cap-weighted indices), probably arguing for a large-cap bias especially in an environment of slowing economic and earnings growth. Uncontroversial so far.
click to enlarge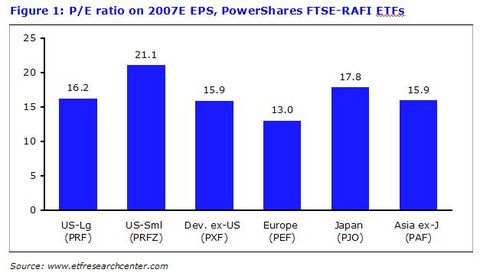 Outside the U.S. the story is more complex. The Developed Markets ex-US fund (PXF) would typically be compared to the iShares MSCI EAFE index fund (EFA), which has a somewhat lower P/E ratio of 14.4x 2007E EPS. That's not in and of itself a bad thing. However, the reason PXF is more expensive from a valuation perspective is that it has a much higher concentration of Japanese stocks—almost half the fund, compared with about one-fifth for EFA.
Trouble is, Japan is one of our least favorite markets. Not only are Japanese large-cap stocks more expensive than their counterparts in the U.S., Europe and the rest of Asia, as shown above in Figure 1, but they are also consistently less profitable (Figure 2)! Which begs the question, "Why pay a premium?"
Meanwhile stocks in the European fundamental index look a lot more reasonably priced, especially considering they have profitability basically on par with their counterparts in PRF here in the U.S. Further weakness in the USD would also be a boost for holders of PEF.
Lastly, the Asia ex-Japan fund is dominated by Australia and Hong Kong stocks, which together comprise nearly 90% of the fund. Like most funds with significant Australian exposure, this one also sports a decent dividend yield of around 3.5%. However, in light of the fund's concentrated exposure in the typically low-P/E Financial and Telecom sectors, PAF's price-to-earnings ratio of nearly 16x begins to look a little rich.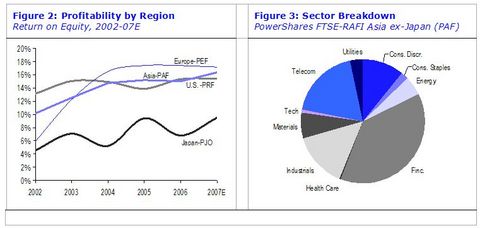 Obviously there are other factors worthy of consideration in selecting amongst the new fundamentally-weighted ETF offerings; ultimately only you can decide what's appropriate for your portfolio. But the underlying message seems to be that investors still need to pay attention to fundamentals in order to pick their fundamental index funds.