As a follow-up to our prior article on near-term challenges for natural gas infrastructure MLPs, these dynamic charts from YCharts are a helpful tool for investors wishing to monitor the situation over time.
When you come back to this article another day, the chart data will be updated for the latest end-of-day data.
These charts plot the price (blue), the dividend amount paid (red), and the resulting yield (orange) as price and dividends vary. The setting is to present the longest period available to non-subscriber users. We find the ability to plot multiple attributes on one chart helpful
These MLPS are the five most actively traded natural gas infrastructure MLPs, presented from the most to the least actively traded.
| | |
| --- | --- |
| EPD | Enterprise Products Partners LP |
| ETP | Energy Transfer Partners LP |
| WPZ | Williams Partners LP |
| MWE | MarkWest Energy Partners LP |
| OKS | ONEOK Partners LP |
Observations as of 04/07/2012
(does not apply to future chart updates)
A couple of immediate visual observations are that EPD has generated smooth dividend growth and solid price gains, but is trading significantly below its recent yield as a result of the two levels of change.
ETP has been somewhat erratic in dividend payments and yield, with a weakening price. The extra yield currently available from ETP seems to be the compensation investors demand for the uncertainty about what the dividend will be in the future.
The cost of consistent, reliable dividend growth is a lower yield, when compared to a security with an inconsistent and less reliable dividend growth, all other things being equal.
WPZ and MWE each took a large price hit during the 2008 crash, with a corresponding spike in yields, but the dividends survived, the prices recovered and the yields are about where they used to be.
OKS took less of a 2008 crash hit, the dividend survived, the price recovered and the yield is somewhat below where it used to be.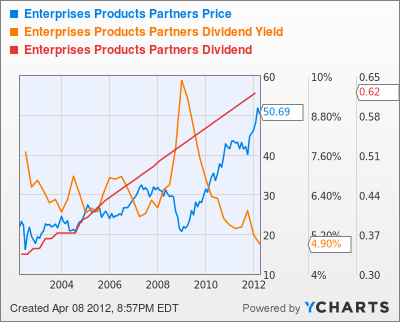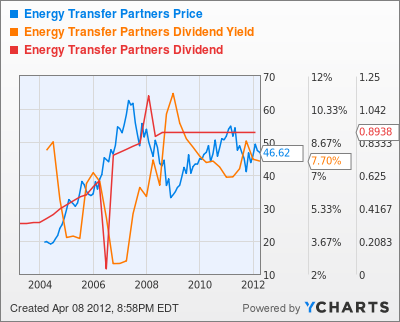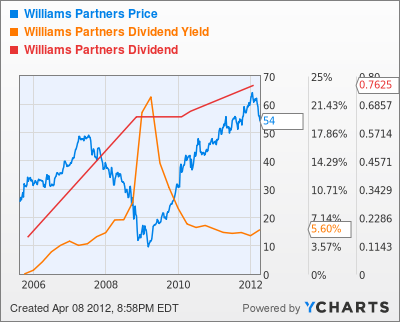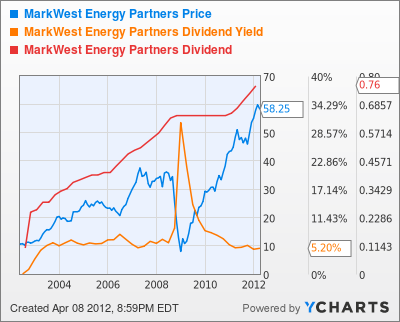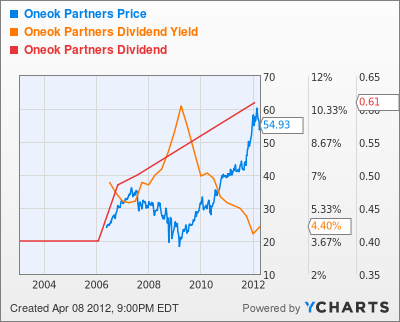 Disclosure: QVM has no positions in names securities as of the creation date of this article (April 7, 2012).
Disclaimer: This article provides opinions and information, but does not contain recommendations or personal investment advice to any specific person for any particular purpose. Do your own research or obtain suitable personal advice. You are responsible for your own investment decisions. This article is presented subject to our full disclaimer found on the QVM site available here.