When it comes to shopping, the "power of habit" is directly correlated to the conservation of mental capacity. Millions of Americans perform daily routines where habits form and, because of the love of convenience, American consumers enjoy shopping at retail establishments where proximity is routine and habits are rewarded by saving time and effort. For certain run-in and run-out errands, such as grocery shopping, picking up drug prescriptions, or dry cleaning, most people don't want to be bothered with a mall, or take the time to drive to one. In Charles Duhigg's new book, The Power of Habit, the author explains the habit forming process:
Habits, scientists say, emerge because the brain is constantly looking for ways to save effort. Left to its own devices, the brain will try to make almost any routine into a habit, because habits allow our minds to ramp down more often. This effort-saving instinct is a huge advantage. As efficient brain requires less room, which makes for a smaller head, which makes childbirth easier and therefore causes fewer infant and mother deaths. An efficient brain also allows us to stop thinking constantly about basic behaviors, such as walking and choosing what to eat, so we can devote mental energy to inventing spears, irrigation systems, and, eventually, airplanes and video games.
Based on the latest (March 2012) results, many U.S. retailers have identified with the "power of habit" and the correlated patterns of American consumers that have enhanced first quarter retail spending levels. Thomson Reuters reported that major retail chains posted a healthy 4.3 percent sales increase in March compared with the same month a year earlier.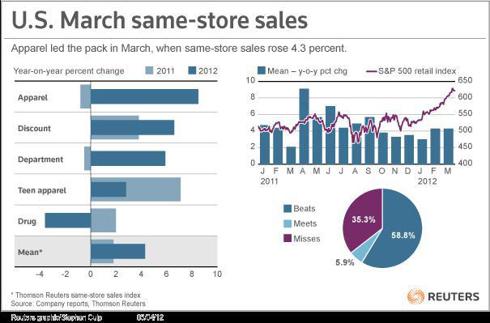 Top performers were discounters benefiting from a continued thrifty mindset. Ross Stores Inc.(ROST) and TJX Cos. (TJX) both reported a strong 10 percent increase. The Gap (GPS) also beat expectations with a robust 8 percent jump. Target (TGT), the second largest U.S. discount chain posted a 7.3 percent increase in same-store sales.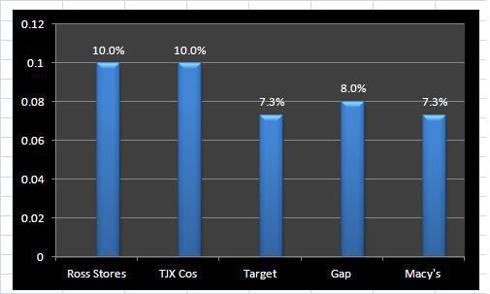 The Power of the Shopping Center
Location is very important for commercial real estate owners, but in the retail sector it is critical. As habit forming consumers seek out attractively, well-maintained shopping centers, the resiliency of the routine is built around a simple reward identified as "convenience."
A desirable neighborhood shopping center is usually anchored by one or two major stores - most often a supermarket or a drugstore - and contains a number of additional stores that offer other basic services and necessities. As a result, the retailers that occupy these centers tend to be relatively resilient - even in the face of prolonged recessions.
A neighborhood shopping center located near one or more major residential areas, leased to tenants offering an assortment of necessity-based products and services, will continue to thrive - particularly if the center is attractive and well maintained. Unlike mall patrons, the shopping center consumer seeks out convenience and necessity and that repeatable "power of habit" is the driving force behind the business model.
The Power of Retail REITs
The "power of habit" is an essential element for the shopping center investor. As the consumer develops certain daily routines, such as grocery shopping, the habits become so powerful that they can often emerge outside of consciousness and, as Duhigg explains, these habits form an extraordinary power of consistency:
They (habits) shape of our lives far more than we realize - they are so strong, in fact, that they cause our brains to cling to them at the exclusion of all else, including common sense.
With underlying business models built on habit and necessity it is not unusual to see shopping center REITs outperform. Within the FTSE NAREIT Index there are 126 equity REITs with a market capitalization of $478.19 billion and within the shopping center sub-sector there are 17 REITs with a market capitalization of $37.31 billion. The average dividend of the All Equity sector is 3.34 percent and the average dividend yield for the shopping center sub-sector is 3.74 percent.

Arguably the best REITs have built solid portfolios around exceptional risk control practices. This includes high-quality tenants, strong demographics, conservative balance sheet management, and leasing. In addition, diversification is an extremely important element to building a sustainable income history.
The success of these REITs are directly correlated to the habits and routines of the consumers and the strongest REITs have demonstrated that effective risk controls will turn rent checks into income and income into dividends. The essence of these shopping center REITs is to differentiate from the other asset sectors by turning the habits into sustainable revenue.
Kimco Realty Corporation (KIM), Regency Centers Corporation (REG), Excel Trust Inc. (EXL), Retail Opportunity Investment Corporation (ROIC), Wiengarten Realty Advisors (WRI), Equity One Inc. (EQY), and Federal Realty Investment Trust (FRT) have all demonstrated strong risk-controls in acquiring and managing shopping center assets. These seven REITs are distinguished by strong sector performance including increased occupancy and core investment practices. Furthermore, these REITs should continue to deliver sustainable profits by growing and maintaining convenience and necessity-driven space for many national and regional grocery and discount related tenants.

More importantly, investors should seek out these REITs for their attractive dividend yields. As the discount and value-driven retailers continue to thrive, these shopping center REITs will continue to outperform based upon sound dividend performance and capital appreciation fundamentals. Year-to-date total returns for the 17 FTSE NAREIT shopping center REITs averaged 14.85 percent (thru March 31, 2012) while the entire all equity REITs averaged 10.49 percent. In addition, the same shopping center sub-sector produced average dividend yields of 3.75 percent (compared with the entire average all-equity index of 3.34 percent).
Building a record of consistency is one of the most important habits to investing intelligently. Furthermore, finding companies that create consistency and durability are distinguished by habit forming characteristics that lead to strong sources of differentiation. The shopping center REITs have built a powerful platform on consistency and these habit forming qualities make for a superior asset sector and a worthwhile routine called "sleeping well at night."
I have written Seeking Alpha articles on Kimco, Regency Centers, Excel Trust, Retail Opportunity Investment Corp., Equity One, and Federal Realty. In addition, I have listed the Q1-12 earnings dates below: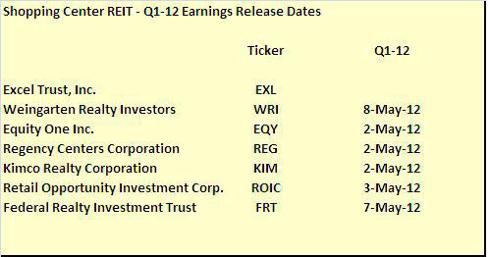 Disclosure: I have no positions in any stocks mentioned, and no plans to initiate any positions within the next 72 hours.