Many of you that have read my articles since I started publishing on Seeking Alpha know that I am not a precious metal bull nor am I a precious metal bear. I do not view markets in this manner, and I do not fit my analysis into one of these perspectives. I simply attempt to read what the market pattern is telling me that its next larger move will be, and invest and advise accordingly.
Therefore, while some of you may view my perspective as maintaining a staunchly bullish position based upon some personal bias, I can assure you that such is not the case. In fact, I was exceptionally bearish last year at the heights of the precious metals markets, and, now, I am taking a similarly opposite position in the face of extreme bearishness.
Last week, I explained that we had a pattern in place that could potentially lead to an immediate strong rally in the precious metals. I also warned to wait for confirmation of the breakout before adding to any long positions, which would mean a move over the 33.14 in the silver futures and 165 in GLD on strong volume.
While the silver futures moved up to that exact level, it clearly backed off that level, and dropped down to invalidate the immediate term bullish pattern. While I mentioned last week that "we will continually move stops up to higher Fibonacci support levels as the market moves up," as we moved up this week, we moved our stops up to the 32.50 level, a higher Fibonacci support level, and have stopped out on the immediate long trade, (and many the follow my analysis even successfully shorted at that level) and are now looking for another entry point.
Sentiment
The larger bullish pattern is still very much intact, as evidenced by the significant bearish sentiment in the metals market. In fact, it seems that bearish sentiment has moved to a further extreme this past week. One Seeking Alpha author even wrote that "gold has no fundamental reason to rise, and with its loss of momentum over the past six months, it has no technical, or trend-following, reason to rise either."
He is clearly not the only one who has made such public statements. Many other analysts are viewing silver and gold as "dead" investments. In fact, Dennis Gartman, who has now been described as the "flip-flopper" of the year, now views gold as being in a bear market - well, at least that is his position this week.
Effectively, what these analysts invariably do is "predict the present," and Gartman is a prime example. In other words, they look at the present conditions in the market, and assume those conditions will continue for an indefinite period of time into the future. This type of analysis, which is performed by most analysts, is linear in nature, and works well within an economics textbook. However, we live within a non-linear, dynamic world-wide society, which is why linear analysis cannot work.
Rather, this is the reason most analysts become extreme optimists at market tops, and extreme pessimists at market bottoms. In fact, the closer we are to a change of trend, the more "sure" they are that the trend will continue. This is exactly why many are now looking for a target of $1,000-$1,300 in gold and the high teens to the low $20's in silver. While it is always possible that they may be right, I just don't believe that is the case at this point in time.
We have discussed this psychological phenomena several times in previous articles. Until the times of R.N. Elliott, the world applied the Newtonian laws of physics as the analysis tool for the stock markets. Basically, these laws provide that movement in the universe is caused by outside forces, specifically: 1 - a body at rest remains at rest unless acted upon by an external force; 2 - a body in motion remains in motion in a straight line unless acted upon by an external force; and 3 - for every action, there is an equal and opposite reaction.
However, as Einstein stated: "During the second half of the nineteenth century new and revolutionary ideas were introduced into physics; they opened the way to a new philosophical view, differing from the mechanical one."
Yet, even though physics has moved away from the Newtonian viewpoint, financial market analysis has not.
Many services and financial commentators in newspapers persist in discussing current events as causes of advances and declines. They have available the daily news and market behavior. It is therefore a simple matter to fit one to the other. When news is absent and the market fluctuates, they say its behavior is "technical."

Every now and then, some important event occurs. If London declines and New York advances, or vice versa, the commentators are befuddled. Mr. Bernard Baruch recently said that prosperity will be with us for several years "regardless of what is done or not done." Think that over.

In the dark ages, the world was supposed to be flat. We persist in perpetuating similar delusions.

R. N. Elliott, Natures Law, 1946
Since we are at 10 year lows in bullish sentiment for the metals, and based upon the extreme in bearish sentiment, this usually does not point to a market collapse in the metals, as collapses usually occur at high sentiment levels, not low ones. And when analysts definitively claim that there is the "no reason" for a market to rise, that is usually the point at which we see the market rise.
Technical Analysis
From a technical standpoint, while the metals have been dropping, take note that each drop has been on lesser selling volume relative to the similar size declines previously seen over the last 5 weeks. Volume is a simple indication of market psychology, and reading volume indications in a market can tell you a lot of the general psychology of a market.
Most specifically, when the initial stage of a selloff sees more volume than the latter stages of a selloff, it is usually a technical indication that selling volume is drying up, and the weak hands are being shaken out of the larger market during a corrective decline. However, if selling volume rises from this point forth, then I would clearly change my perspective, as rising volume through the decline indicates a change of trend rather than a corrective move.
Also from a technical standpoint, I use a 144 minute chart (a Fibonacci number) for my analysis of the metals. On this chart, GLD has been displaying positive divergences since its initial larger drop in the market, which we called for back in August-September of last year. As the market still made lower lows, it continually displayed this positive divergence. Even on the low we made this past week, we are continually seeing positive divergences in the MACD.
This is another indicator supporting our perspective that this is a corrective decline which should be ending shortly. But timing the actual turn is always the tricky aspect to any form of analysis, and while we have been able to do it often in the past, it does not mean we will be able to time each and every move, as this one has clearly taken longer than expected.
(click to enlarge)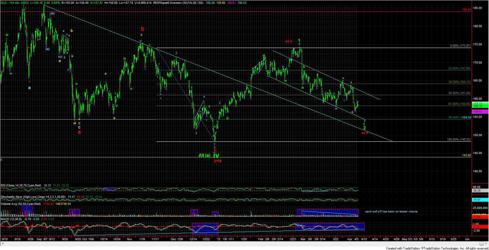 From a targeting standpoint, while it is possible that the drop this past week has completed the decline for the metals, I still think there is a good possibility of one more drop over the next week or two. My lower target region in the silver futures, which has been the same since I warned of a top at the end of February, is the 30 region in the futures, and specifically the 30.40 level. While it is also possible that it can drop as deep as the 29 region in the futures, I see this region as potential support to begin the next rally which should take silver back up to the 40's in short order.
As for GLD, the next support region is the 154-156 region, with the outside possibility of moving as low as the 151 region, but I see that as a very low probability at this time.
Again, this larger bullish perspective of the metals has a high probability, in my humble opinion, and that perspective has not changed. Although it is never easy to be long-minded in a market when there is so much bearishness around, remember that when bullishness hits significant lows, when analysts can see "no reason" why a market can rally, and this is coupled with declining selling volume, it most often indicates that we are at the point at which a market turns, and turns hard.
Also remember that when a market takes longer to consolidate, the resulting move in the opposite direction is usually much stronger.