Market sentiment rarely drifts about the week Alcoa (AA) reports, but this week the aluminum behemoth's results will take on outsized importance.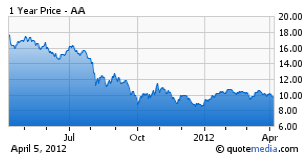 With Friday's hard-bitten showing on the jobs front, all eyes and then some will be on Alcoa. Seen in the context of Friday's jobs report, which the stock market, closed for Good Friday, did not get a natural chance to react to in real time, Alcoa will roll a bank of clouds out over perceptions of the economy and, by extension, stocks.
Let's back-up for a second. The jobs report showed a sharply disappointing 120,000 jobs created in March after a few months of falsely built (but dearly felt) hope.
The disappointment, delayed and gathering in force over the holiday weekend, will appear with a vengeance, validated by a nearly inescapably disappointing Alcoa report on Tuesday. The one-two punch will, by mid-week, really have traders rethinking the recovery they have been all but willing into existence in recent months.
And revisionism is, well, not a beach.
Here's how the story will play out: Alcoa always kicks off the earnings season and, as a cyclical from central casting, often sets the tone. Google (GOOG) reports this week too - on Thursday - but they may see their fortunes rise for reasons that go beyond the economy, just as JP Morgan (JPM), on tap for Friday, might see its fortunes sink for reasons that go beyond the larger economy.
But Alcoa, always tethered to the economy, is struggling. Even absolute best-case scenario (what, a 3 cents loss?) means red ink for a second straight quarter, after more than two years of gains. Harnessed that to those dour job numbers and guess what?
Alcoa is bound to throw a pale over the whole market.
Moreover, consensus estimate, which is for a loss of about 5 cents a share have been dialed down by about a penny (a considerable percentage) in the last month. This means that even a mild beat would not give the stock-or the market-any sustainable traction. Additionally, in a bit of desperation, Alcoa has also been cutting costs and capacity to ribbons and any beat on the back of such cuts won't count for much either.
They still will be losing money and the next company that cuts its way to growth will be the first. In the end, Alcoa's probable 5-cent loss will look gruesome set against last year's 28-cents-per-share profit, as will revenue, which will slide 3.6% (if not more) to under $5.75 billion.
As a trader, you always have to prepare for any contingency. But especially in light of Friday's holiday jobs disaster, you have to prepare for the contingency of a market, reconsidering and reeling, after Alcoa reports bad results on Tuesday.
Jobs then Alcoa. This is a pile on waiting to happen.
Disclosure: I have no positions in any stocks mentioned, and no plans to initiate any positions within the next 72 hours.