Despite the great start to last week on Monday when the S&P 500 hit a new 52-week high of 1422.38, it was all downhill from there. Yet even with the loss following some alarming employment data, the market is still scrappy. We'll weigh the good and bad and the odds in a second, right after we start with the bigger economic picture.
Economic Calendar
Last week was a week of mixed messages on the economic front.
On the 'encouraging' side of the table, factory orders grew, the unemployment rate fell, and auto sales were decent. From the 'discouraging' side of the table, new payroll additions were well below forecasts, construction spending slumped, and consumer credit levels didn't come anywhere near growing as much as it has been of late (mostly thanks to the big contraction in student loan borrowing).
All that being said, last week's big news was all about one area… jobs, or lack thereof. It was on that front where the messages were most mixed. Take for instance the official government tally of new nonfarm jobs added for March. The pros were looking for 215K new private payrolls, but the BLS said only 121K were added following February's 230K added payrolls. The number semi-jives with the ADP number, which reports that job growth only reached 209K in March, short of the forecasted 217K, and shy of February's 230K. Yet, it was still enough to push the unemployment rate down to 8.2% from 8.3%.
On the weekly front, both new and ongoing unemployment claims continue to reach multi-year lows, though the pace of the decline is still slowing.
It's a highly-contended matter, but the aggregate of the numbers verify that the jobs picture is getting better even with last month's slowing. The number of total unemployed Americans (whether collecting benefits or not) is falling, while the total number of employed Americans is rising - a trend that has been in place for months. These jobs may not be great jobs, but they aren't terrible jobs either; the average hourly pay rate also continues to drift higher.
Point being, in sum, the semi-positive spin on the jobs front isn't just smoke-blowing. All the rest of last week's data is on the table below.
Economic Calendar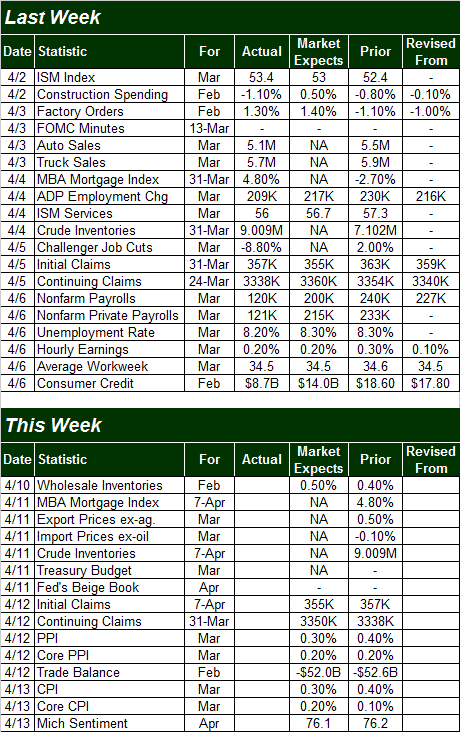 This week is going to be a light one, economically speaking. The only items of real interest don't come out until Thursday and Friday, though they should rock the boat once they do. We're talking about Thursday's producer price inflation and Friday's consumer price inflation. Both are expected to be up for March.
The PPI is expected to be higher by 0.3%, or up 0.2% on a core (non-energy and non-food) basis. The current PPI annualized 'rate' currently stands at 3.3%, and has fallen for five straight months after peaking at an alarming 7.1% in the middle of last year. Consumer inflation is expected to have grown by 0.3% on a year-over-year basis, and should be up 0.2% on a core base. This inflation rate now stands at 2.87% after peaking at 3.87% in September. Both inflation rates are not only at tolerable levels, but are at levels that would be considered healthy.
Stock Markets
The shortened trading week was also a bearish one for the broad markets (DIA) (QQQ) (IWM) - the second losing week in the last three, and only the fourth losing week in the last sixteen. Yet, after a sixteen-week, 16.6% (to last week's multi-year high of 1422.38) romp, one can't help but wonder if two losing weeks in the last three is an omen that the long-overdue correction is now starting to unfurl.
Vital stats first - the S&P 500 (SPX) (SPY) fell 10.39 points (-0.73%) to close at 1398.08. Volume was light for the week, but remember, markets were closed the last day of the week in observance of Good Friday.
Just to set the tone first, let's start with a weekly chart of the S&P 500. On it you'll see hints of - though not conclusive evidence of - that potential pullback. Even with the move lower last week, the SPX didn't close under the prior week's low. And, it didn't even come close to breaking under the 50-day moving average line (purple). So, we don't want to go overboard with fear just yet.
S&P 500 & VIX - Weekly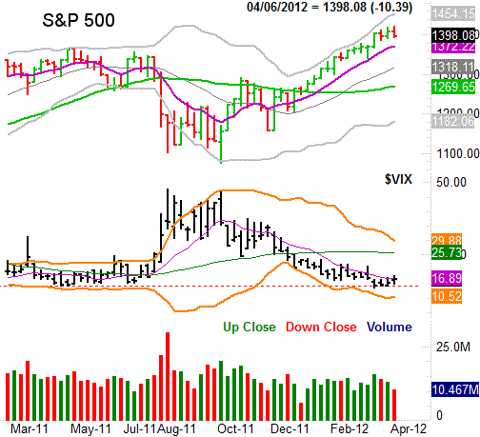 Click to enlarge
Something else you'll see on the weekly chart… the CBOE Volatility Index (VIX) (VXX) (VXZ) is finally starting to test the waters above where it's been trading. In fact, we've seen two weeks of higher highs and three weeks of higher lows, and the VIX's 50-day moving average line (purple) is clearly under pressure as a ceiling. One more good nudge could get the VIX up and over that hump, and really put this pending pullback into motion.
As for the daily chart, it's here you can see that even though the market lost ground last week, we still haven't hit 'red alert' levels yet.
While the S&P 500 closed under the 20-day average line (blue) for the first time in a few weeks, it was a 'just barely' event, and really didn't mean that much damage. The bigger floor around 1373, where the 50-day moving average line (purple) and lower 20-day Bollinger band (gray) are entwined, is still intact. Until and unless it falls, there's not a lot to be worried about yet. That said…
… It's also with the daily chart we can see how much pressure the bears are applying to the VIX. We already knew the VIX's 50-day average line (at 17.3) was under pressure, but we can also see the upper 20-day Bollinger band is also under pressure. As was noted with the weekly chart, one more good nudge for the VIX may be what pushes the market past the point of no return.
S&P 500 & VIX - Daily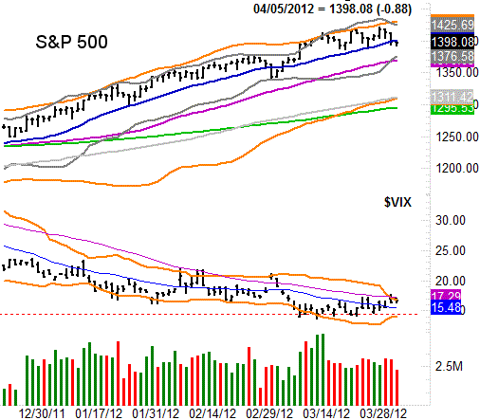 Click to enlarge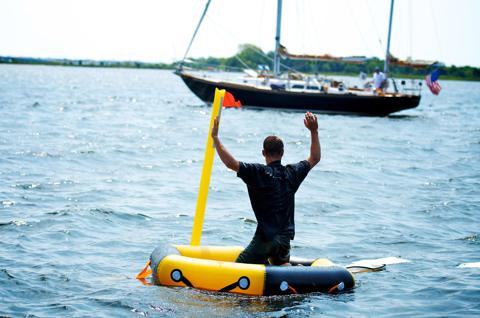 Click to enlarge
Disclosure:
I have no positions in any stocks mentioned, and no plans to initiate any positions within the next 72 hours.