I am a fan of J Crew (JCG) and their management. The company has room to grow, and management with the know-how to make sure things go smoothly.
In the current retail environment, JCG is getting beaten down, and the daily chart is indicative of this negativity. Observe the resistance of the SMAs…
Daily: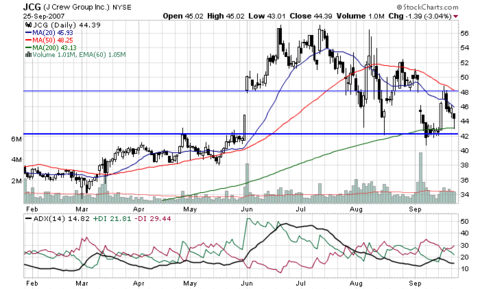 However, there is support at the 42-43 level. Fundamentally, JCG appears undervalued, especially given the proven management. (See quick and dirty valuation plug. Play around with the variables to suite your own expectations.)
The weekly confirms the 42 support level, and indicates JCG is still in a long-term bullish trend.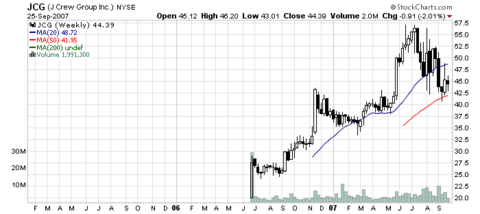 The play here would be to sell the 45 Dec Put options. Target, Lowes, and the retail index tell me the rate cuts need time to play themselves out with respect to benefit for retail. In the meantime, make some income by selling the puts, and if the puts get exercised, 45 is a great price to pay for this stock. (Granted you technically get the stock lower by including the premium received by selling the puts.)
In my opinion, JCG will be higher than 45 by December, but with the index acting as headwind (rather than facilitating and upward push), getting some income is better than flat-out purchasing the stock… just in case the stock goes lower due to sector weakness.