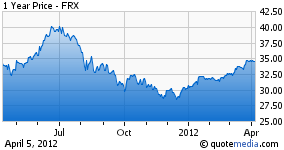 Forest Laboratories (FRX) has been rising steadily during the past three months on rumors and speculation that larger pharmaceutical companies are considering a buyout of the company, despite the expiration of Lexapro (the company's old flagship SSRI/Antidepressant drug) and other losses en route.
The company's valuation seems to be the main focus of the rally, as the most recent quarterly report (Q3 2012) released on January 17th 2012 recorded an overall 9.2% increase in revenue from Q3 2011.
The major drawback in the consolidated financial data was in earnings, which came in at $1.04 EPS (below most estimates). The P/E ratio of the stock is now about 8.7, which about half the industry average P/E of 17.2. This makes Forest a compelling value play from this angle, but there are major issues that might arise in 2012.
Lexapro, Forest's blockbuster product, was responsible for much of the company's recent success. Just under 50% of the company's revenue is tied up in this SSRI alone. The expiration that occurred this month is about to begin taking its toll though, since generic competition will arrive later in the year.
Forest is looking forward to a very likely NDA approval for aclidinium bromide, their treatment for COPD (Chronic Obstructive Pulmonary Disease). The FDA's Pulmonary-Allergy Drugs Advisory Committee, in February 2012, voted 12 to 2 in favor of approving the currently submitted NDA which will have a decision on April 30th, 2012. This, in addition to continued speculation over a takeover by a larger pharmaceutical company might be enough to continue to drive shares higher in the near term.
Forest Laboratories offers diverse range of prescription products such as Lexapro®, Namenda®, and Bystolic® that treats conditions like depression and anxiety, Alzheimer's disease, hypertension, and more. The company's other products include: Aerobid/Aerobid-M (flunisolide) Inhaler System, AeroChamber Plus Flow-Vu Anti-Static Valved Holding Chamber (Small Mask, Medium Mask), Bystolic (nebivolol) Tablets, Combunox (oxycodone HCl and ibuprofen) Tablets, Lexapro (escitalopram oxalate) Tablets/Oral Solution, Monurol (fosfomycin tromethamine) Sachet, Savella (milnacipran HCl) Tablets, Tiazac (diltiazem hydrochloride) ER Capsules, etc. Its pipeline includes product candidates in all stages of development and across a wide range of therapeutic areas like: asthma, cardiovascular disease, Alzheimer's disease, depression, chronic obstructive pulmonary disease, gastrointestinal disease, and infectious disease.
The BioMedReports FDA Calendar shows more than ten upcoming catalysts for the stock, including previously mentioned review of the New Drug Application for linaclotide for the treatment of irritable bowel syndrome with constipation (IBS-C) and chronic constipation (NYSE:CC). With a standard 10-month review timeline, the FDA Prescription Drug User Fee Act target action date is expected to occur in June 2012.
Disclosure: I have no positions in any stocks mentioned, and no plans to initiate any positions within the next 72 hours.