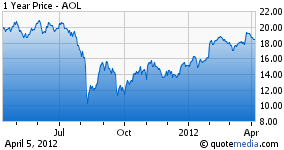 AOL's (AOL) sale of patents to Microsoft (MSFT) does not solve its business problems and may be shareholders' last chance to get out at a good price.
Shares have been rising since the start of the year and were up nearly 22% before the deal was announced. They popped in pre-market trading to nearly $25, levels not seen since 2010.
EnvisionIP reviewed over 700 of the patents being sold after AOL began the sale process, noting that many relate to features that are now standard in social networking, many dating into the last century, many relating to AOL's early dominance in instant messaging and email.
What's in this for Microsoft? Well, consider that Microsoft bought 1.6% of Facebook (NASDAQ:FB) in 2007, for $240 million, and Facebook is now being sued by Yahoo. Relevant patents could be transferred in a defensive move, or Microsoft might use them to get itself more deeply into social networking. Except for its shakedown of Android, Microsoft has mainly used patent rights defensively, as a way to get into new markets.
AOL CEO Tim Armstrong has said the company plans to distribute some of the money to shareholders in some way, but you would be foolish to hang on waiting for that to happen, since any value is probably baked-into today's stock price.
The reason is that AOL continues to be more of a soap opera than an operating business. The New York Times claimed Arianna Huffington got more power in a recent re-org but Business Insider insists she actually got demoted, that the Times was spun by a PR agent hired by Huffington.
The Times' story was filled with dirt flung at Armstrong, but the bottom line here seems to be that Huffington lost her responsibility for sites like TechCrunch and Engadget, which had been suffering a talent drain under her "leadership." Problem is, can any of this be turned around by Armstrong, who bought HuffPo specifically because he thought Huffington was the editorial leader he needed?
Signs point to no. What Huffington lost is now under AOL senior vice president Jay Kirsch, and Kirsch is reportedly hiring an editorial manager. (He doesn't need that. He needs a consumer publisher.)
Kirsch is best known at AOL as moving to ally AOL properties with more powerful brands, like Zillow (NASDAQ:Z), and build a network of business-to-business sites.
The bottom line here is that Armstrong has bought himself some time. Shareholders should be tired of waiting and get out while the getting is good.
Disclosure: I am long MSFT.