Nordson Corp.'s (NASDAQ:NDSN) $1B in sales of precision dispensing systems, adhesives, coatings, technology components and inspection tools are unlikely to suffer from a U.S. economy slowdown, Barron's says. Overseas sales make up 70% of the company's revenues. Nordson's core, market-leading U.S. businesses like food and beverages are non-cyclical and less exposed to slowdowns. Some 38% of Nordson's revenues are recurring sales for replacement parts. And its canny acquisitions contributed to Q4 sales growth of 16%-20% and EPS of $0.73-0.83/share. Though shares are down at $51 on fears it overpaid for a 2006 acquisition of British semi-conductor parts-maker Dage Group, third-quarter sales were up 20% in that unit. The general semi-conductor sector uptrend is yielding sunny forecasts for Nordson's circuit-board assembly and testing division. The company has increased its dividend every year for 43 years, and usually leaves some cash to spare. Nordson trades at 15 times earnings and 9 times its 2008 market cap, low compared to its historical range of 16-21 P/E and 10-12 times enterprise value minus Ebitda. The Street forecasts a 30% rise in 2008 earnings to $3.32/share from $2.62 currently as purchase and interest costs decline; bulls envisage $62 shares by 2008 -- a 20% gain.
Sources: Barron's
Stocks/ETFs to watch: NDSN. Competitors: MMM, COHT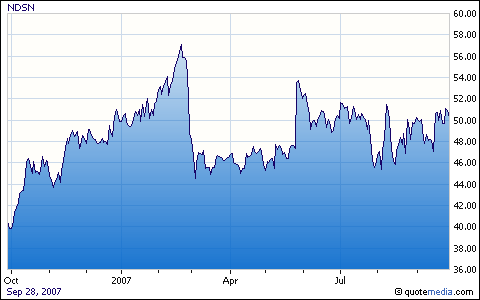 Seeking Alpha's news briefs are combined into a pre-market summary called Wall Street Breakfast. Get Wall Street Breakfast by email -- it's free and takes only seconds to sign up.