In the final issue of Business 2.0, Paul Sloan covers the Marchex (NASDAQ:MCHX) story. In addition to providing a great history of the company and its founder, the article also mentions Open List. This is the technology that Marchex uses to pull together relevant content from around the web to automatically seed 100,000 different websites. I had mentioned in an earlier post that the resulting websites don't seem all that useful.
The article also brings forth a comparison of the profitability of a domain parking company and Marchex. Marchex's largest acquisition was for a portfolio of domain names that made $18 million a year of profit on $20 million of revenue. As a whole, Marchex recently made $220,000 profit on $134 million of revenue. If Marchex's development strategy does not start to yield incremental traffic and revenue, all they have done is created a domain name parking company with way too much overhead and a compromised revenue model.
A recent article in Forbes on Demand Media, presents an interesting contrast and an alternate model for development. Demand Media recently raised an additional $100 million of financing at a $1 billion dollar valuation. The company has also acquired a huge portfolio of domain names. As opposed to Marchex's strategy of thinly developing thousands of websites at once, Demand Media has been focusing on a small group of 50 highly targeted websites. They have grown the sites by adding social networking elements and real content. Visitors to the sites find engaging information and have a reason to keep coming back. As long as they can successfully replicate this model across their domain portfolio, I think they've found the winning formula.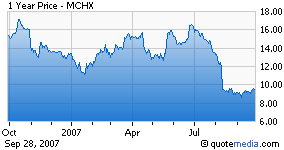 Disclosure: none