Concord Camera (LENS-OLD) recently released its 2007 10-K. Last week I calculated the net current asset value of Concord Camera, so I figured I should update my figures in the June 30, 2007 balance sheet. Here's what I found: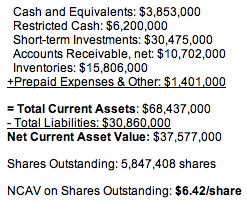 NCAV appears to have dropped about forty cents per share over this past quarter. The main cause of this reduction came from an increase in total liabilities.
LENS closed today at 2.96. This means this stock is still trading below Graham's criteria of 2/3 of NCAV. Heck, Concord Camera stock is trading at 46% of NCAV!
On a positive note, at least sales were up this quarter. Revenues were $16.4 million in the third quarter and have now climbed to $22.1 million in the fourth quarter. The loss per share has gone from $0.57 per share to $0.54 per share. This comes from an almost doubling of gross profits from $1.1 million in the third quarter to $2.1 million in the fourth quarter. Of course this improvement is probably due to a seasonal trend associated with summer vacations.
I was hoping to hear of other new product initiatives beyond the OnGuard Kids product. However, nothing else was mentioned as being in development in this 10-K. I think we can probably expect another rough year ahead for Concord Camera. They really need to start getting creative. However, CEO Ira Lampert doesn't appear to be too motivated to turn this around. Hopefully, the cheap assets of this company will attract some interest.
Full Disclosure: I own shares of Concord Camera (LENS-OLD).