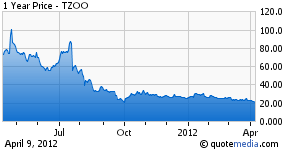 With the troubles emerging at Groupon (GRPN), travel & leisure minded consumers and merchants may be shifting to the more conservative and trusted deal provider Travelzoo (TZOO). In fact, many Seeking Alpha contributors are bearish on Groupon amid broader street negativity surrounding the company. This negative perception seems to be overflowing into the downward drift in shares of Travelzoo. We recommend buying Travelzoo at these low prices especially as we head into their earnings report on April 19th. Bespoke Investment Group outlines the historical volatility of TZOO shares leading up to its earnings release dates. The pre-earnings period is traditionally a good time to get long Travelzoo. We feel the compression of Travelzoo shares associated with Groupon's troubles makes this an especially compelling time to be long.
The TZOO team has been conservative in its growth approach and the stock has been punished for it. We have urged the company and its founder to be more aggressive in its growth strategy and still believe there are more partnering opportunities for their deals space. We feel the time is now to seize on the troubles at Groupon and increase market-share by aggressively pursuing a merger or acquisition to cement Travelzoo's competence and consumer loyalty in the high end deals marketplace. The platform they have built is under-utilized and should be given more customers and deals to drive both top line and bottom line growth.
We have reported on the revenue to market-cap ratio disparity between Groupon and Travelzoo in the past. It is this disparity that provides the basis for the compelling hedge to shorting Groupon with buying Travelzoo. But beware, Groupon shares are currently in high demand to borrow for shorting with a negative 34% annual rebate.
We have just received the proxy notice announcing the annual meeting in New York on May 18th, 2012 presumably at TZOO's office. We surmise that they do not believe many shareholders will be there given the limited space in their offices on Madison Avenue. We encourage all shareholders to attend and ask what is the real growth plans for the company.
Disclosure: I am long TZOO.