"Our offensive philosophy is to simply find a way to get the ball into the hands of our team's best player." - Kelvin Sampson
Part 11 (see part 1, part 2, part 3, part 4, part 5, part 6, part 7, part 8, part 9, and part 10)
(Click to enlarge)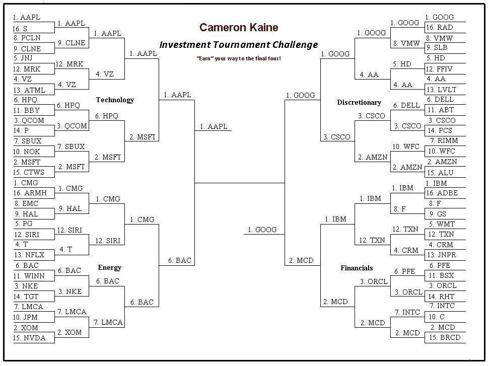 The quote above from Coach Sampson would be appreciated by Warren Buffett who also reminded us that there is a perverse human characteristic that likes to make easy things difficult. And I agree with that and speak to the idea that as investors we sometimes make things harder than they should be. In the case of Coach Sampson, the team's offensive philosophy is simple - let's make sure that our best player has the ball as much as possible. And this is precisely the model that I have followed so far this year in my portfolio with my best stock in Apple (AAPL). With that in mind, in order to increase my chances of winning in this ever competitive investment environment, I have sought to first increase my position in the stock.
In doing so, I have had to liquidate my entire holdings in equities such as Sirius XM (SIRI), Qualcomm (QCOM) as well as my position in Texas Instruments (TXN). And just as this strategy has paid off for some of the best basketball coaches ever, it has proven early on to have paid off for me as well as Apple, the tournament's No. 1 overall seed, dominated Cinderella story stock Bank of America (BAC), the No. 6 seed, a team that not many predicted would have been able to come out of the energy region which included names such as Exxon Mobil (XOM), the No. 2 seed, as well as No. 3 seeded Nike (NKE), which was one of my final four candidates by virtue of its rich basketball tradition.
The Match-up
A "wake-up call" was what I called Apple's last performance against software giant and No. 2 seed Microsoft (MSFT) leading up into this game because it ended up being much closer than anyone anticipated. But as I said last week, being tested early by a determined rival has always had its benefits. But also as everyone expected, the company took Microsoft's best punches and prevailed. Apple started the week at $599 and reached yet another all time high on Thursday of $634.66 before ending the shortened session at $633.68. For its part in what has become one stellar performance after another I realize that its success has had a lot to do with the shrewdness of its business - one that is very subtle and more potent and anyone wish to give it credit for.
There is no denying Apple's brilliance. The company innovates and creates like no other company can, but it remains remarkable how the market continues to overlook just how effective the company is in disrupting the business of its competitors. The company is due to report its second quarter earnings on Tuesday, April 24, and several analysts have recently raised price targets on the stock to $1,000 hoping to be the first ones with these four-digit goals. The question is, will the company's report suggest that the $1,000 target is the standard or merely the low end of where the stock is truly heading as the company continues to present the story that is just too good to be true to the extent that its stock gets remarkably cheaper the higher it goes.
Beleaguered financial juggernaut Bank of America arrived in the tournament as the No. 6 seed. That in of itself was an accomplishment as many analysts did not even give the bank a chance to even survive 2011 much less enter the tournament will such a relatively high ranking. It is hard to imagine there being a bigger surprise in this year's tournament than this once struggling financial villain. But it has done a remarkable job and has proven many naysayers wrong - including yours truly to the extent that it is indeed this year's Cinderella team. But unfortunately, it was no match for Apple. But then again, neither were Apple's last four opponents.
For Bank of America, it needs to be proud of what it has demonstrated in this tournament and its fans ought to be pleased with where the company is going. So far in 2012, it has become the top performer of all of the Dow components as it has amassed a 66% increase with rival JPMorgan Chase (JPM) coming in at second at 33%. Bank of America has demonstrated that not only can it survive, but more importantly, it can thrive by having reported a profit of $2 billion in its latest quarter - a remarkable accomplishment after having posted a loss of $1.2 billion during the same period last year. Its full year earnings arrived at $1.45 billion compared to a prior loss of $2.24 billion in 2010.
From an investment standpoint I think that there will be some near term turbulence from this point forward leading into Q3, but this will be partially technical as well due to what I am anticipating to be an overall correction within the market. That said, for those who are in for the long haul on Bank of America, they should do extremely well as I think the bank can certainly double from its current level over the course of the next 12 - 24 months as it appears that the entire financial sector has indeed rebounded from a disappointing 2011.
What's Next?
Apple has made it to the championship game and the only surprise is that there is anyone who is yet surprised by this. As the tournament's No. 1 overall seed the company has basically held serve and has done what it was expected to do. Now it must wait to see which company it will have to prepare for between search giant and chief rival in Google (GOOG), the No. 1 seed in the discretionary region or will be McDonald's (MCD), the No. 2 seed which recently dominated IBM (IBM) en route to its first ever final four. Stay tuned.