The earning season may be off to a rocky start. Last week's performance was the poorest for the markets this year. The S&P 500 and Dow lost 0.7% and 1.2% respectively for the week. What's more, the March jobs report failed to meet economists' expectations. Only 120,000 non-farm payrolls were added, vastly lower than the expected 203,000. Stock index futures fell sharply Friday.
If the market overreaches to the downside, this could be a buying opportunity for a couple of reasons. Firstly, economists' jobs expectations were aggressive. Wells Capital investment strategist James Paulsen noted, "My point is it's quite a feat to string a number of those together without a statistical fluke month. In other words, it would have been quite a big deal if we had gotten another 200,000-plus number." Secondly, I believe the miss may be perceived as benefiting equities by increasing the likelihood of continued Fed easing. Time will tell. Either way, I see it as a win-win scenario for stocks. The Bernanke put is still in effect.
This week is the start of the earnings season. Heavy hitter bellwethers announcing this week are Alcoa (AA), Google (GOOG), JPMorgan (JPM) and Wells Fargo (WFC). Please review the following brief of each stock. Additionally, I will review gold's (GLD) recent performance in light of the negative jobs report.
Alcoa
(Click to enlarge)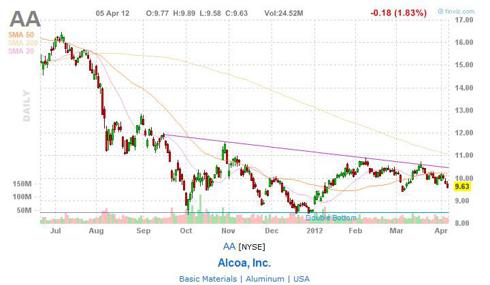 Click to enlarge
China's overproduction of aluminum has dropped prices and that could be a substantial drag on the company's margins. Alcoa is attempting to adjust output levels, but these changes take time and may not show up in the numbers until next quarter. The company is slashing output capacity by 390,000 tons, having lowered refining capacity by 531,000 tons in January. Alcoa has total global refining capacity of 18 million tons per year. Recent robust car sales should be a positive for the name. Nevertheless, the company's second quarterly loss is predicted due to the low aluminum price and increased energy costs. I'm not expecting a great report from Alcoa. I would avoid this stock. Finally, I do not consider Alcoa's performance a bellwether for the market.
Google
(Click to enlarge)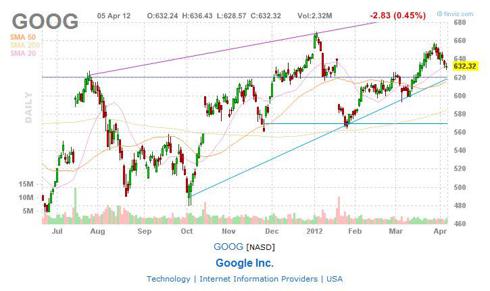 Click to enlarge
Google has expanded its business and ventured into the mobile, social and cloud branches of the technology sector. The new Google Glasses endeavor is interesting. Nevertheless, some people speculate the concept video performance is fiction and not possible yet. I believe Google is making the right investments for the future and may beat the Street's estimates. Google's Nexus tablet, developed in partnership with Asus, will be arriving in July. Google is looking to find ways to lower the device's price from $249 to $149-$199. Additionally, anxieties about the EU's patent probes and a Chinese regulatory review regarding Google's buyout of Motorola Mobility (MMI) may weigh on the stock. Long term I'm positive on the stock but I would stay away from earnings. Too many irons in the fire to be sure.
JPMorgan
(Click to enlarge)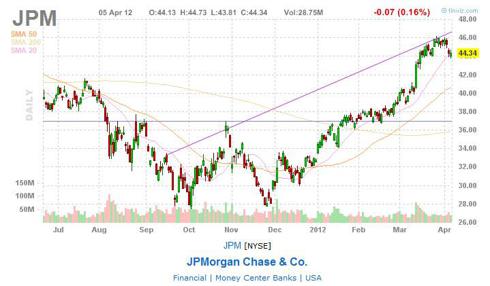 Click to enlarge
A letter from CEO Jamie Dimon to shareholders was released on Thursday. The letter was very thorough and JPM seems to be doing well. They passed the recent stress tests. On the downside a lot of the good news has been priced in I expect. JPM is currently trading at .91 of book value. This may be a case of buy on the rumor sell on the news with so much information currently available. I do like the stock and would wait for a pullback after earnings to start a position.
Wells Fargo
(Click to enlarge)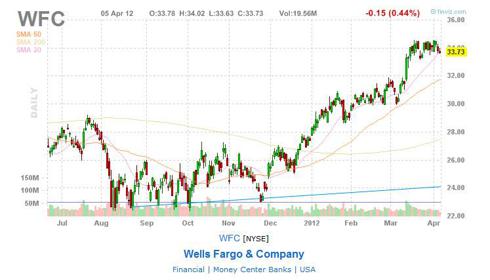 Click to enlarge
Wells Fargo's big plus is its business is tied to the U.S. domestic economy, which is where all the growth is occurring. Wells Fargo has a robust, growing mortgage business. With minimal exposure to global financial issues, Wells Fargo is attractive here. With a forward PE of 9.72 and a price to book ratio of 1.27, Wells looks fairly valued. Wells spiked along with other banks after the stress test results were announced. Since that time it appears to be under accumulation for the past few weeks. At the current price of $33.73 I would start a position. Hopefully, the stock will sell off some on Monday giving me a better entry point prior to earnings.
Gold
(Click to enlarge)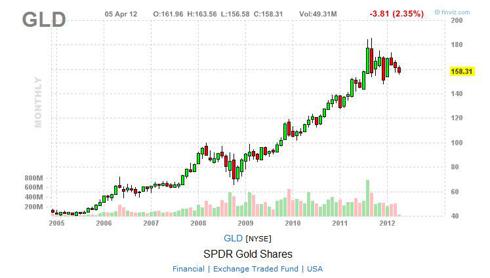 Click to enlarge
Gold rose slightly on Friday after a disappointing U.S. jobs report, according to Reuters. A bad Spanish debt auction resulted in a stronger dollar subsequently lowering the price of gold 1.8%. Bullion touched a near three-month low of $1,611.80 earlier this week. If the Fed comes out and confirms another round of quantitative easing look for gold to rebound. I like gold here. The long-term uptrend is intact.
Conclusion
I posit the recent jobs report will potentially auger in another round of quantitative easing. The market seems toppy here with a lot of investors looking to take profits. I would avoid going long prior to earnings on Alcoa, Google and JPMorgan. I feel Wells Fargo and gold via the GLD are poised to move up this week. Look for an early week pullback to pick up some shares in stocks on your buy list.
Use this information as a starting point for your own due diligence and research methods before determining whether or not to buy or sell a security. If you choose to start a position in any stock, I suggest layering in a quarter at a time on a weekly basis to reduce risk and setting a 5% trailing stop loss order to minimize losses.
Disclosure: I have no positions in any stocks mentioned, but may initiate a long position in WFC, GLD over the next 72 hours.