Apple (AAPL) has started off 2012 with a bang as it rapidly surged from $400 to $600 in mere weeks. I have recommended option strategies for Apple since 2010 with tremendous results (remember, past results do not guarantee future results). For reference, please view the first and other articles in this series to fully understand the strategy and its strong potential returns. I perform a weekly analysis of Apple's stock, options, recent news, and competitive analysis. In essence, the investment objective is to capitalize on Apple's volatility by selling out-of-the-money options to generate weekly income without sacrificing long-term returns.
Click to enlarge all images.

(Source: Yahoo Finance)
A brief recap of this week in Apple (up $31.85, or 5.3%):
New iPad U.S. Traffic as Percent of Total iPad Traffic: 10.68% (up 2.78%)
I am running out of superlatives to describe Apple's run in 2012. The stock has surged without any real pullback to yet another all-time high as the market cap inches towards $600 billion. If you know my contrarian investment style, I tend to get more nervous when a stock appreciates dramatically than when it declines by an equal percentage. Now that Apple has a "real" P/E ratio in contrast to the unmerited multiple it was trading at through most of 2011, I believe much of the easy money has been made in the stock and I cannot call Apple an outright bargain anymore.
I predicted this past week that Apple would hit $720 within the next 12 months. Furthermore, I noted that "if the iPhone 5 is as revolutionary as I expect it will be, we could see that target reached in 2012 alone. If the iTV is released this year, the sky is the limit." A 15% 12-month gain following a 50% rise is nothing to ignore, but this is the Apple we are used to. I know Apple has been performing like few other stocks in history, but tell me that you do not get at least a little nervous when you see how the long-term chart has essentially turned exponential in the last three months. I fully stand by my price target, but I do not think a dip back to the low $600s is out of the question. Absent any significant breaking news, I am a buyer of Apple at any dips below $600.
This week was a mixed bag for competitors, with HTC announcing a steep decline in earnings while Samsung reported record earnings. This seems bizarre because both make rather popular Android devices. The comparison is not quite apples-to-apples (no pun intended) because Samsung is a more diverse company that has numerous core competences. For example, Samsung is one of the largest suppliers of Apple parts. One lesson from this news is that Google's Android is by no means a guaranteed hit for hardware makers. The operating system has proven that it is here to stay, but the widespread fragmentation and competition against other Android devices will continue to harm other competitors and amount to a zero-sum game. I predict that this will only get worse as Google leverages its Motorola Mobility (MMI) investment to create devices with a tighter link back to Google. I believe the simplicity of iOS will continue to keep Apple on top of the profit wars and solidify the operating system.
The dominance of the iOS ecosystem is the reason why Apple will not become the next Palm or Research In Motion (RIMM). Switching costs for Apple users are very high compared to Blackberry users. When I made the transition from my Blackberry to an iPhone, I was up and running in a matter of minutes with all of my contacts, calendars, music, etc. -- the phone had no real legitimate apps to speak of back then. The same cannot be said when switching from the iPhone to its competitor, as at a bare minimum an entirely new set of apps must be downloaded. This often-overlooked barrier to entry is one of Apple's greatest strengths.
Below I present three possible scenarios and the potential returns for Apple options. The first scenario represents a negative outlook for Apple while the final two scenarios are more reasonable. These scenarios are just projections and there is no guarantee that they will come to fruition. Even if you are optimistic, it is important to generate both positive and negative circumstances in order to stress your assumptions. As a general rule, selling calls with higher strike prices has greater potential return but additional risk of loss due to the lower (or lack of) downside protection. For more information on the fundamentals of covered calls, please consult Investopedia.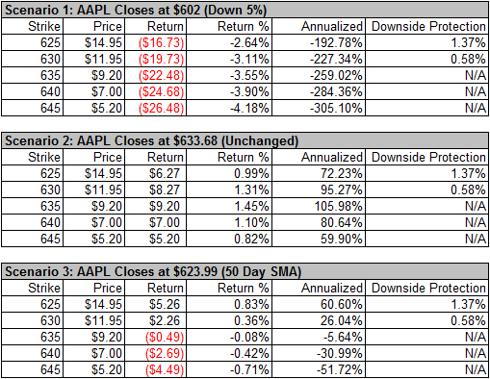 Additionally, if you would like even more information, I have prepared a sensitivity analysis for absolute return and percent returns, respectively. After studying the information above, these two charts make it easy to pick a strike price based on where you believe Apple will close at the end of the week. Estimate where you believe Apple will close and select the strike price with the highest return.

With this information, executing a buy-write on AAPL April 13 (Weekly) 640s is the optimal risk/return strategy. This makes for an excellent trade if you are not currently long Apple; however, if you are a long-term Apple investor I would exercise restraint because you are likely sitting on significant unrealized gains. If that describes you situation, you might want to consider 645 or greater covered calls, but first please consult with your accountant or personal financial planner.
If you are uncomfortable with this strategy I suggest a buy-write in the range of 620-640s. Even if you are extremely bullish you can still profitably sell covered calls; Apple is volatile enough that you will have opportunities to repurchase on dips. An alternative approach is to sell out-of-the-money 625 puts and collect the premium without having to purchase the stock outright. Note that if the stock declines to the strike price, you are obligated to buy the stock (or close out the position).