With gold prices near a 30-year high at $750/oz., John Hathaway, manager of the $1.1B Tocqueville Gold Fund, doesn't believe it will take much to get the precious metal up to the magical $1,000 mark. The fund manager, who a year ago predicted a tough time for financial assets given gold's breakaway performance, tells Barron's the climb is being spurred by the liquidity squeeze and Federal Reserve rate cuts. Among the stocks poised to benefit from gold's rise, according to Hathaway, are Newmont Mining (NYSE:NEM) and Gold Fields (NYSE:GFI). While returns on equity are low, Hathaway tells Barron's that with gold prices at or around current levels, these companies go from being "mediocre" businesses to "great" businesses. Newmont, he notes, has been through a senior management transition and the new CEO is working on optimizing returns on capital. He believes shares, which are now just shy of $45, could be at $70 or $80 with gold at $800/oz. As for Gold Fields, he says it too has been a laggard after its prolonged takeover battle with Harmony Gold (NYSE:HMY), but he believes its "very, very deep: South Deep mine gives the company a longevity -- up to 50 years out -- that other companies don't have." Hathaway also favors Ivanhoe Mines (IVN), calling it one of the more interesting development stories, and Randgold Resources (NASDAQ:GOLD), which is "actually making money" (unusual for many such companies) and has a growth profile.
Sources: Barron's
Commentary: Look Who's Benefiting From Record-High Gold Prices • Gold Correction Now Over: Stocks Experiencing Breakout • Eight Ways to Add Gold to Your Portfolio
Stocks/ETFs to watch: NEM, GFI, GOLD, IVN, HMY. Competitors: ABX, FCX, RTP. ETFs: GDX, XME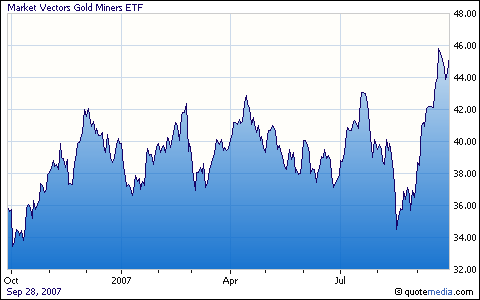 Seeking Alpha's news briefs are combined into a pre-market summary called Wall Street Breakfast. Get Wall Street Breakfast by email -- it's free and takes only seconds to sign up.