"The secret is to have eight great players and four others who will cheer like crazy."

- Jerry Tarkanian
Part 12 (see part 1, part 2, part 3, part 4, part 5, part 6, part 7, part 8, part 9, part 10 and part 11)
(Click to enlarge)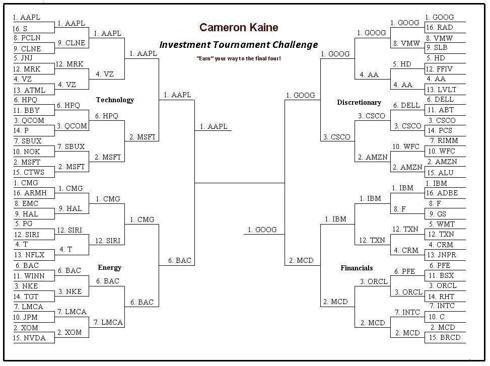 Although Coach Tarkanian was referring to a 12-man basketball team in his quote above, I tend to look at his philosophical perspective from the standpoint of an investment portfolio - to the extent that having a mixture of great stocks as well as some that are "just good enough" can often prove to be a recipe of success.
One such example is in search giant Google (GOOG), the No. 1 seed coming out of the discretionary region, which has for years been an anchor in many portfolios. Remarkably even at $632 the stock remains relatively cheap as its P/E of 21 suggests. When one considers the company's true growth potential and the fact that it grew the past three years under significant market and corporate pressures, it is easy to expect even bigger things for this tech powerhouse in much less strenuous economic environments as we are experiencing today. This is the reality that No. 2 seeded McDonald's (MCD) had to deal with as it was just over-matched by Google which came out of its locker room ready to prove that its profit miss in its last quarter was an anomaly.
The Smiling Match-Up
I called this the smiling match-up because it pinned two companies that seemingly go out of their way to put smiles on people's faces, either from Google's ever-changing logo on its home search page or McDonald's happy meals and whose slogan is "we love to see you smile." But for Google, Wall Street was doing anything but smiling when the company released its last earnings results. As noted, although the company reported its best quarter in its history, it missed its profit estimates due to an increase in operating expenses - something that many analysts considered a glaring red flag and a sign that the company would struggle to maintain its growth estimates.
Investors need to realize and appreciate that Google has generated over $40 billion in annual sales and has exceeded a double-digit growth rate on its top line since its inception. Again most of that growth occurred in three of the toughest years that the market has ever seen. It was precisely this performance that helped it overcome a comeback by No. 3 seed Cisco (CSCO) in its elite 8 match-up. So it remains a tough proposition for me to accept that Google will struggle as the economy has shown considerable signs of improvement and should be able to maintain its lead in advertising revenue. Not to mention that I think it is a bit reaching to consider that the company would not be able to make the necessary adjustments to compete and fend off attacks from Microsoft (MSFT), whose Bing search has now overtaken Yahoo (YHOO) as the No. 2 most used search source.
Fans are also overlooking the fact that Google reported the highest revenue total that it has ever had in a single quarter at $10.6 billion. This was an increase of 25% year-over-year. It seems the concern for analysts was what it reported net revenue of $8.13 billion versus the expected $8.4 while discounting that the company would likely have met expectations had it not been for a deduction in advertising commissions. Google will eventually overcome all of these doubts and execute in a way that it convinces Wall Street that there is nothing to be concerned about. Remarkably, even with these fears about the company's performance, McDonald's still was not able to exploit that weakness as it did over No. 1 seed IBM (IBM) last week.
As dominant McDonald's has been a loss to Google is nothing to be ashamed about. No other company has performed as well as McDonald's at any point in 2011 or even over the past 10 years where it has increased average annual sales by at least 6% while more than doubling its operating margins. But against Google, there were some signs that it had its mind on other things after having announced that CEO Jim Skinner plans to retire effective June 30 and COO Don Thompson will be taking over. But I continue to think that the company will experience no hiccups whatsoever and maintain the same level of performance that it has enjoyed.
As noted, McDonald's has been on a roll and the company has for 106 consecutive months reported growth of same store sales that have been positive. This is unheard of for a company of its size. So given the company's stellar fundamentals on a long-term basis, as well as what appears to be a quality succession plan, I don't anticipate any kind of drawbacks at all - temporary or otherwise. This is even though the company may face some macro-related challenges in the form of commodity costs as it is also in the midst of some corporate strategic improvements.
What's Next?
Remarkably for Google a price of $700 at some point this year is not out of the question, but it now will face Apple (AAPL), its hated rival for this year's championship in a game that will certainly go down to the wire. We started this tournament with 64 teams and are now down to two - Apple vs. Google, two teams, one trophy - It doesn't get any better than this.