An exchange-traded fund, commonly referred to as an ETF, is an investment fund traded on an exchange in a manner similar to equities. ETFs can hold assets such as stocks, commodities, and bonds. ETFs are designed to trade throughout the day at the net asset value of the underlying portfolio of assets held. This compares to mutual funds, whose values are only reset after the markets close and the portfolio is revalued.
Most ETFs track an index or set group of investments within a fairly defined set, and the investments are not actively traded by the ETF. Because of the often passive investing by most ETFs, many have considerably lower costs than comparable mutual funds.
ETFs have increased in popularity over the past few years. One of the main reasons why ETFs have grown so much is because many individual investors have moved from higher-fee mutual funds to comparable lower-fee ETFs, believing that the difference in fees will outsize any potential difference in performance by an actively managed mutual fund. Additionally, most actively managed fund managers do not consistently outperform the market, so ETFs that more closely track the actual market may also be less likely to disappoint investors compared to an actively managed fund that guesses incorrectly.
Below is a recent performance review for the five largest equity ETFs, based on assets under management. I have provided a recent performance chart for each, as well as their year-to-date (YTD) return, present yield, fees, and current assets under management (AUM).
SPDR S&P 500 (SPY)
AUM: $104.51 billion
Fees: 0.1%
YTD: 11.38%
Yield: 1.87%
Click to enlarge all images.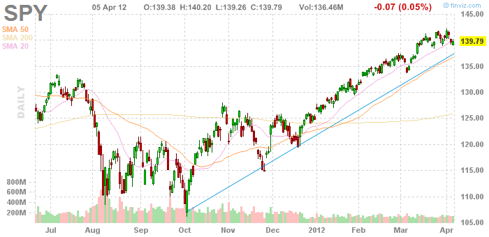 Vanguard MSCI Emerging Markets (VWO)
AUM: $54.5 billion
Fees: 0.22%
YTD: 12.98%
Yield: 2.09%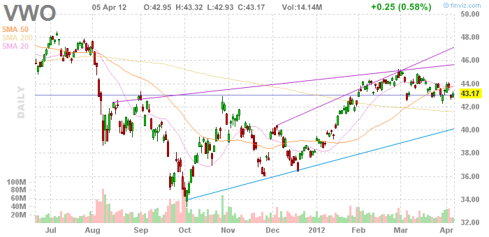 iShares MSCI Emerging Markets (EEM)
AUM: $39.54 billion
Fees: 0.69%
YTD: 12.65%
Yield: 1.18%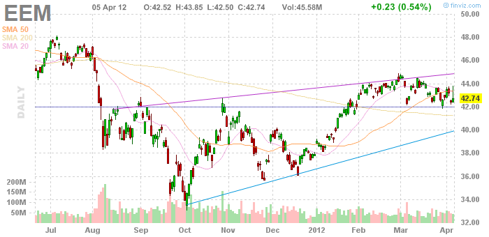 iShares MSCI EAFE (EFA)
AUM: $36.76 billion
Fees: 0.34%
YTD: 7.04%
Yield: 3.12%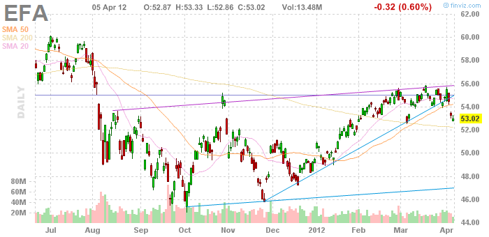 PowerShares QQQ (QQQ)
AUM: $35.78 billion
Fees: 0.2%
YTD: 21.30%
Yield: 0.74%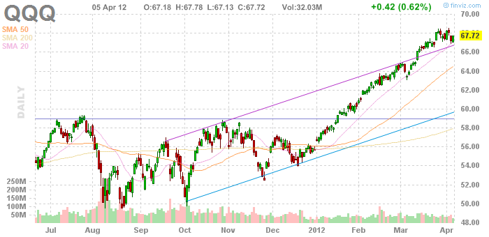 So far this year, all five of these popular equity ETFs are positive, with QQQ the best-performing listed ETF. QQQ has appreciated 21.3% so far in 2012, compared to 11.38% growth by SPY. The emerging markets ETFs have all been positive this year, but they are all also down more than 12% compared to one year ago.
Disclaimer: This article is intended to be informative and should not be construed as personalized advice as it does not take into account your specific situation or objectives.

Disclosure: I have no positions in any stocks mentioned, and no plans to initiate any positions within the next 72 hours.