Respironics, Inc. (RESP) makes respiratory products for use at home, in hospitals, in alternative care facilities, and in emergency situations. Respironics is a leading maker of devices that treat obstructive sleep apnea [OSA], a disorder characterized by cessation of breathing during sleep. Products include its REMstar CPAP (continuous positive airway pressure) system; invasive and noninvasive ventilators for use in hospitals, at home, or other care facilities; oxygen concentrators; peak-flow meters and drug-delivery systems to treat asthma and allergies; and monitoring systems for sudden infant death syndrome [SIDS].
Respironics' price chart looks like the little engine that could. It just keeps chugging higher. While it took a breather in late 2005 and most of 2006, it looks like it's ready to continue upward. The reason: earnings.
While they're slowing somewhat, going from 21% a year growth, on average, for the last 5 years and predicted to increase 17% a year, on average, over the next 5, they're still very respectable. In 2004, they were $1.02, followed by $1.22, then $1.36 and in 2007 (fiscal year ends June 2007) $1.71. Analysts predict $1.95 next year. Revenues were $1.195 billion last year with expectations of $1.350 billion this year.
Other numbers: Market cap is $3.4 billion with 73.639 million shares outstanding. Net profit margin is 10.5% with predictions of 10.7% for this year and eventually hitting 11.8% within the next few years. Current assets are more than 3 times current liabilities. Debt is only 3% of capital.
In the last fiscal year, sales increased by 14% while earnings improved by 26% (better efficiency). While demand was good domestically, it was the international customer that contributed strongly to sales, especially in sleep therapy products. Part of those stellar earnings were helped by a one time tax credit from research and developmenet. Management is sensitive to the taxes it pays. Manufacturing operations have been moved to international locations with lower tax rates.
Demand for help with sleep disorders is a large market. The Food and Drug Administration estimates that about 40 million people in the U.S. alone suffer from them. Driving some of these customers is longer work hours and more stress as well as higher consumption of caffeinated drinks so they can work harder and add more stress. It's a perfect storm of events for sleep disorder, and Respironics has the products to calm it.
Much of this good news is reflected in the stock. The price has been steadily climbing since 2000. There was a 2 for 1 stock split in 2005. The stock is off its all-time high of $49.40 by a few dollars. Investors like the management and the story here. They've been bidding up the shares with enthusiasm. The stock seems fully priced at the moment (p/e of 25), but this stock is worth knowing in case it takes a breather. If it does, you may want to investigate it further to see if it fits your idea of a medical device company worth owning.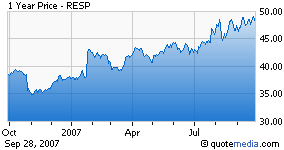 Disclosure: none